Mira Rajput and Shahid Kapoor have been making less public appearances as they have been busy taking care of baby Zain who the newest addition to their family. And now, Mira has shared a brand new pic of big sister Misha playing with her cute little baby brother. Misha seems to be quite an entertainer while baby Zain is seen seemingly enjoy her antics as he looks at her while lying down in his pram. Misha seems have grown up too quickly, no? How time flies! It seems only like yesterday since Shahid and Mira gave birth to their firstborn. Mira Rajput Makes Her First Public Appearance Post the Birth of Baby Zain, Attends Shahid's Batti Gul Meter Chalu Screening.
Here's taking a look at Misha and Zain's pic-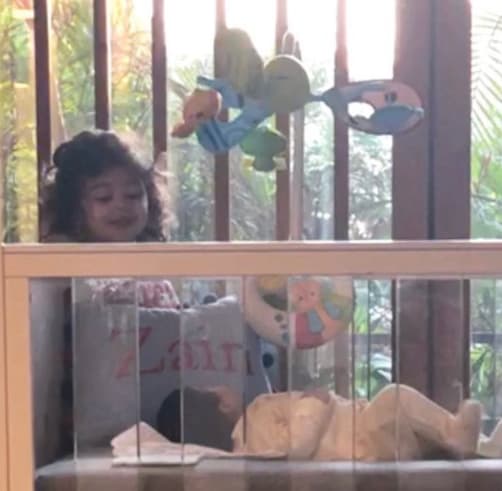 As you can see Zain has a customized pillow which has it name written on it.
Sasha and Mira were blessed with Zain on September 5, 2018. After the couple tied the knot in an arranged marriage set on July 6, 2015, Shahid and Mira are one of the most popular couples of the B-Town. First Picture of Shahid Kapoor and Mira Rajput's Baby Boy Zain Just for Your Eyes.
At an event earlier, Mira Rajput talked about the importance of breastfeeding and was quoted saying, "I have spoken about the importance of feeding the baby in the past too. I was extremely religious with Misha and I am going to do the same with my newborn. It is the greatest gift you can give your baby."
She also shared her thoughts on the importance of sleep for new mommies. In the same interview, she also said, "Also important is to sleep whenever the kids allow you to because that will no more be in your own hand. It is very important for the new mothers to take care of their health as much as they do of their child's."