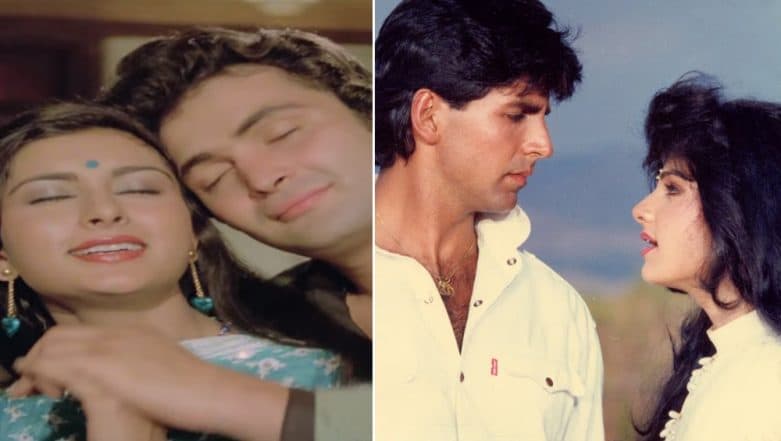 Valentine's week has begun and it is the fifth day of the series which is called Promise Day. Promises are meant to be broken, most of the times, but some times, you meet that special someone in life who will never ever break promises and neither your heart. Bollywood has given us some classic numbers which resonate with the thoughts we mentioned above. So, without wasting much time, let's take you through a list of 5 popular Bollywood numbers that will help you seal the deal with your lover! Gift Ideas for the 5th Day of Valentine Week That Will Strengthen Your Bond Love!
1. Wada Raha Sanam
Akshay Kumar and Ayesha Jhulka made for a lovely pair back in the '90s. The song Wada Raha Sanam was picturised on them and was sung by Alka Yagnik and Abhijeet. This song is golden till date for all those who grew up in that era.
2. Wada Karo Na Chodoge Tum Mera Sath
Sharmila Tagore personifies beauty in this evergreen number starring her and the handsome Shashi Kapoor. If you are someone who has recently got into a relationship and are looking for a commitment of lifetime, this is an apt song for you. Unrealistic Promises That You Should Not be Making or Believing This Year. 
3. Tu Tu Hai Wahi
Asha Bhole and Kishore Kumar sung this beautiful number from Yeh Vaada Raha. DJ Aqeel also came up with the remixed version of the song which was also a hit!
4. Kasam Ki Kasam
Kareena Kapoor, Hrithik Roshan and Abhishek Bachchan's love triangle in Main Prem Ki Deewani Hoon was perfectly showcased in this emotional track from the film.
5. Tum Hi Ho
This is the Lovers' Anthem no matter which day, which era we live in! Starring Shraddha Kapoor and Aditya Roy Kapur, Tum Hi Ho from Aashiqui 2 is a romantic number which you can dedicate to your partner if you are a man of few words. That way, the song will be enough for your lover to understand the unexpressed emotions.
Which of the above numbers will you dedicate to your partner this Promise Day? Comment below and let us know.