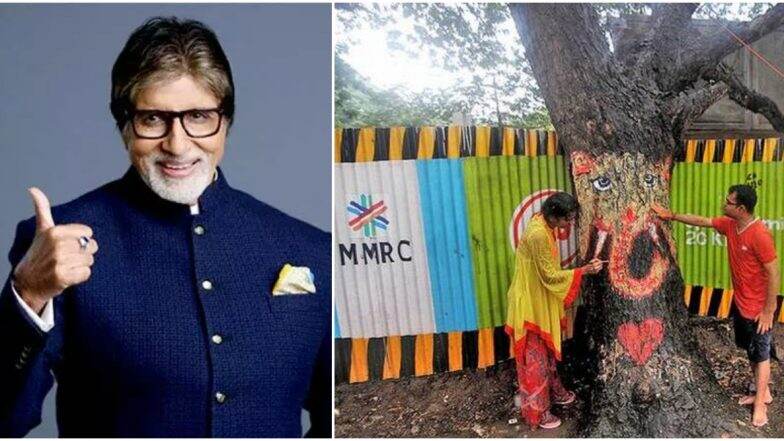 The Mumbai Metro Rail Corporation (MMRCL) and the environmentalists of the city are clashing with each other big time through media and social media. If you are not aware of the controversy, then MMRCL proposes to clear  2,646 trees from the forest area in the Aarey colony, so that it can build a rail shed for its Metro III project. The environmentalists are against it, because such a move could harm the ecology of the city and are staging protests outside the MMRCL office. They have also claimed that felling of these trees would only increase the pollution levels in the city, something which Mumbai has already been affected for years. #SaveAarey: After Shraddha Kapoor, Sonakshi Sinha, Raveena Tandon, Actor John Abraham Joins The Fight To Keep The Forest Land Safe! (Watch Video).
Now what seems to be a tweet supporting MMRCL, Amitabh Bachchan posted about the experience of a 'friend' of his, who used the Metro rail and was happy to see how efficient it was. Currently, the only serviceable Metro Rail in Mumbai runs between Ghatkopar to Versova, Andheri, with the construction for more Metro lines already in work.
Check out Amitabh Bachchan's tweet below:
T 3290 - Friend of mine had a medical emergency, decided to take METRO instead of his car .. came back very impressed .. said was faster, convenient and most efficient .. 👍

Solution for Pollution ..

Grow more trees .. I did in my garden .. have you ❤️

— Amitabh Bachchan (@SrBachchan) September 17, 2019
Though he hasn't outrightly given his support to the cutting of trees, the fact that Big B mentions about 'Solution for Pollution' in the same tweet where he praised the Metro is hint enough. Even Twitterati feels so. Check out some of the tweets slamming the Bollywood legend for his latest stand:
Increasing Pollution Levels
And there are people who want to stop the metro 🙄 pic.twitter.com/zOakaVyitZ

— Tweetu Sultan (@englisbabu) September 17, 2019
No More Worry Over Fuel?
Sir, if you may kindly reveal the truth behind your petrol diesel tweets during UPA II sarkar. I mean now that automobile industry is collapsing, fuel prises have hit all time high in 40-50 years, rupee is lowest, you are peddling solution to pollution. No more worry over fuel?

— Sanjukta Basu (@sanjukta) September 17, 2019
Privileged Dig!
Sir u cud afford a garden in mumbai.. Not everyone us privileged

— gajanand devda (@gajananddevda) September 17, 2019
Below The Belt?
Maybe you can also follow his lead and do the same. And tell all your Bollywood brethren to follow suit instead of travelling in those fuel guzzling SUV's https://t.co/OzLZ1e4R8v

— Dali (@Dali_1105) September 17, 2019
Can the Damage to Ecology Be Restored?
And when the trees in a forest are felled down, no doubt the trees can be replaced by planting trees somewhere else but can the damage to ecology restored? https://t.co/S2CBSyYEso

— Arun Naik (@arunbnaik) September 17, 2019
Did He, Though?
In short Mr @SrBachchan is just stopping short of giving his approval for chopping #Aarey trees.

Yes, sir metro is good, but the shed can be shifted somewhere else. https://t.co/4UebkZpaXT

— Maanmohan Singh Pahujaa (@msgpahujaa) September 17, 2019
In case, you still have doubts about the purpose of Amitabh Bachchan's tweet, then this validation from Ashwini Bide, the Managing Director, Mumbai Metro Rail Corporation, may help.
Thank u @SrBachchan ji fr depicting d importance of #Metro so succinctly. Thank you for ur support. We'r committed 2 commission entire #MumbaiMetro network incldng @MumbaiMetro3 @ d earliest r prvide faster, safer, convenient & #PollutionFree commute 2 #Mumbaikars #AareyAikaNa https://t.co/hAv6W6NaRB

— Ashwini Bhide (@AshwiniBhide) September 17, 2019
Amitabh Bachchan's stand with the MMRCL is hardly surprising since he is a known supporter of the ruling party, the Bhartiya Janta Party, who approves the MMRCL's projects. Recently he was also a part of the 'Mumbai in Minutes' video ad that narrates the benefits of Metro Rail.
मुंबई काही मिनिटात...

Mumbai in minutes...#MumbaiMetrohttps://t.co/8i80TJyzCX pic.twitter.com/EeSTVhLN6e

— Devendra Fadnavis (@Dev_Fadnavis) September 1, 2019
Interestingly, Amitabh Bachchan himself was against the construction of a Metro line near his bungalow, Prateeksha, way back in 2010 (when the Congress was in power). He had also written a blog about it, saying how it would invade his privacy. Well, Time changes everyone. Amitabh Bachchan, Who Once Opposed Mumbai Metro, Appears in Ad Promoting Same Metro Service.
Anyway, the Tree Authority of the Brihanmumbai Municipal Corporation (BMC) has given MMRCL the permission to cut the trees on August 29. However, many of the citizens, back by Shiv Sena (strangely, an ally of BJP), have taken the matter to the court to fight the decision.