Imtiaz Ali's Love Aaj Kal has been infused with a new cast of Kartik Aaryan and Sara Ali Khan with not much alteration. A song from the film called Shayad was released and it seems that has caught on with Janhvi Kapoor a lot. She took to instagram to share how obsessed she is with the song. Shayad sounds very young and refreshing in the voice of Arijit Singh. The melody keeps you hooked even if the visuals don't. So we can totally understand why Janhvi is tripping on it too. What the Fashion! Janhvi Kapoor, Sara Ali Khan, Shraddha Kapoor, Kangana Ranaut and Vicky Kaushal Spend Fabulously!
It has been widely assumed that Sara and Janhvi have some kind of a rivalry between them which isn't true we feel. Both the actresses have often spoken fondly about each other and has made their appreciation for each other public as well.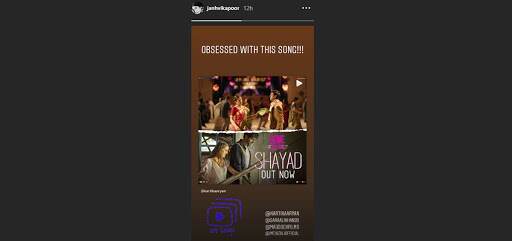 One of the most delectable parts of the original film starring Saif Ali Khan and Deepika Padukone was the music. Guess that's why Ali found it extremely apt to use the music from the original film in this one as well along with everything else. That was evident in the trailer. It made us believe there won't be any original song. So Shayad is a pleasent surprise!
(The above story first appeared on LatestLY on Jan 23, 2020 12:42 PM IST. For more news and updates on politics, world, sports, entertainment and lifestyle, log on to our website latestly.com).