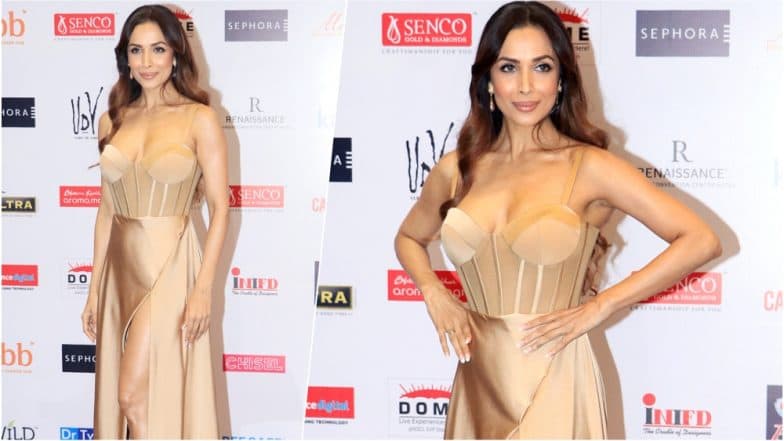 Malaika Arora is making the most of her post-divorce life. The actress shares a cordial rapport with her ex-husband, Arbaaz Khan and there's no animosity shared between them whatsoever. While he's gone on a record to reveal his current relationship status with girlfriend Georgia Adriani, Malaika refutes to come out in open about it. In her recent interaction with bestie, Kareena Kapoor Khan for What Women Want, Ms Arora revealed why divorcing was a tough choice and she had long chats with Arbaaz to decide if the decision to separate is right for them. Guess Who Was Secretly Leaking Information About Malaika Arora - Arjun Kapoor's Romance To Arbaaz Khan?
When asked if women are in two minds to mingle especially after divorce proceedings, she suggested, "It's not impossible. Swipe left, right, whatever it might be! Have fun! For the first time in your life, you will also discover a kind of freedom. To be in a bed all alone is also a new feeling!" Speaking further, the actress even mentioned the enormous amount of support she received from her family and friends after she decided to part ways from her husband. "Everybody said, 'If this is the decision that you're making, then we're really proud of you and in our eyes, you are a strong woman.' So for me, that kind of gave me that extra strength that I needed," she said. Arjun Kapoor and Malaika Arora's Wedding Will Face a Stiff Opposition From Sonam Kapoor, Anshula Kapoor and Boney Kapoor  Here's Why.
A post by Malaika Arora
View this post on Instagram
Malaika comes from an urban family and yet she was worried about taking such a drastic step. But in the end, happiness is all that matters to her and she wouldn't stick in an unhappy marriage just 'cos society norms demand her to be. Speaking about the same she said "If you are in an unhappy marriage and that's what you decide to do you should do it with a lot of dignity, self-respect. Don't let anybody tell you that you are any less of a woman." These wise words by Malaika definitely highlight an important issue. She believes it's easier to judge a woman and that's the disparity that we need to change.