It was an honour for Bollywood stars and directors like Ranveer Singh, Ekta Kapoor, Ranbir Kapoor, Vicky Kaushal, Ayushmann Khurrana, Karan Johar and others to meet honourable Prime Minister of India and discuss cinema in detail. Last year, we had a couple of filmmakers and actors like Rajkumar Hirani and Akshay Kumar who discussed our entertainment industry with Narendra Modi. The team was then trolled for having no women representation. However, this time we had Alia, Bhumi Pednekar and Ashwini Iyer Tiwary joining the special league that was starry in its own way. Ranveer Singh, Alia Bhatt, Ranbir Kapoor, Vicky Kaushal and Other Celebs Reach New Delhi to Meet Narendra Modi (View Pics).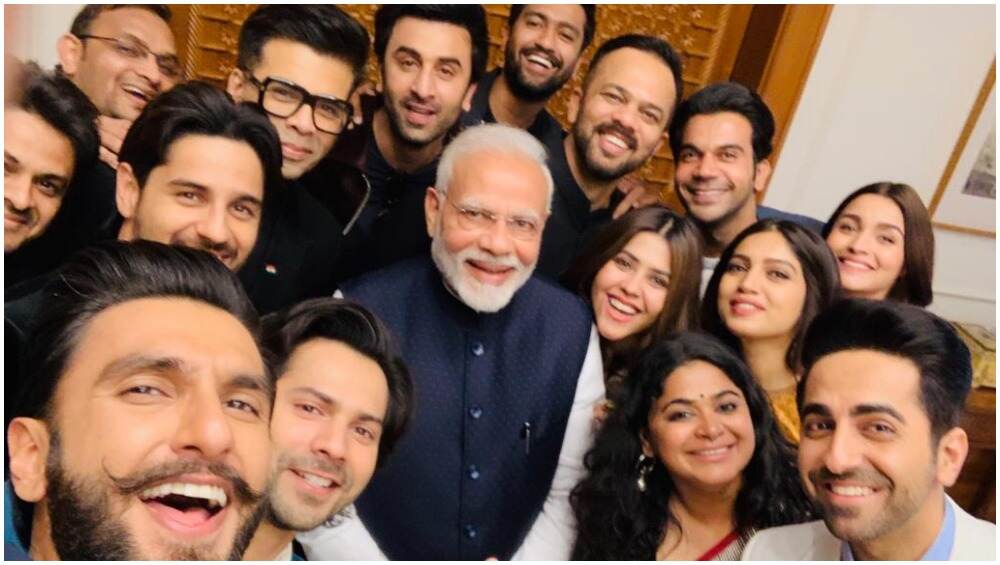 The meeting turned into a very uplifting dialogue. The stars discussed about how the industry has always played an important role in building a better nation, a better society through entertainment. Spoke about various issues concerning the Industry and thanked and acknowledged PM for GST change and giving space to the industry to connect. Many interesting ideas were discussed and the young delegation is excited to contribute more with more energy for the country. Towards the end, like a norm, these stars decided to pose for a selfie with our PM and that instantly reminded us of one by Ellen DeGeneres. Dia Mirza Takes a Dig At Akshay Kumar For Having No Women Present At Bollywood Meet With PM Narendra Modi!
Remember Ellen's selfie with Hollywood's A-league stars at Oscar ceremony? The one with Meryl Streep, Jennifer Lawrence, Brad Pitt, Kevin Spacey and Julia Roberts. Well, the Ranveer Singh one is definitely India's answer to Hollywood's starry selfie that was officially the most retweeted tweet of that year. Well, we're simply glad we had an opportunity to witness so much talent under one roof.