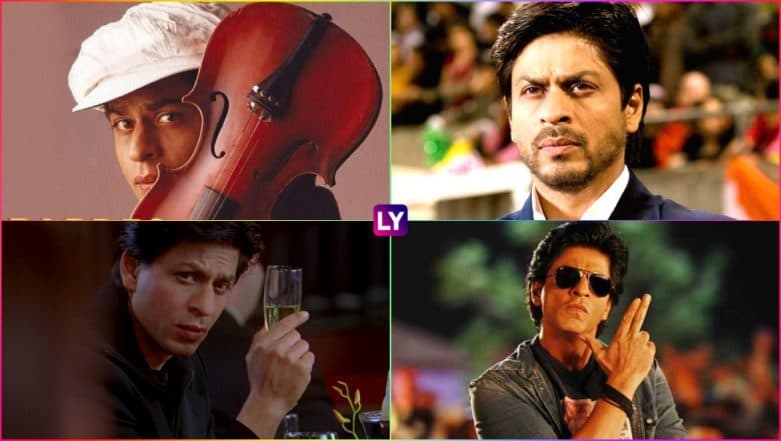 Twitterati is abuzz celebrating anniversaries of Shah Rukh Khan films the entire week. It began with SRK's 1997 film Pardes clocking 21 glorious years on August 8, also marking the fifth anniversary of his 2013-blockbuster Chennai Express with Deepika Padukone. On August 10, fans got together to trend #11YearsOfChakDeIndia for Chak De! India and now they have got busy trending #12YearsOfKANK in honour of King Khan's film Kabhi Alvida Naa Kehna, which released on August 11, 2006. Whoever thought SRK just dominated Diwali and Christmas releases, they completely forgot about his box-office domination during Independence Day week. These four are among the best films of Shah Rukh Khan, and one cannot stop feeling nostalgic about it. You too can join in the celebrations and relive SRK's golden years in pictures and GIFs. Shah Rukh Khan Ruling Bollywood for 26 Years & These 26 Pictures of King Khan in Black Will Make Your Ovaries Explode With His Charm!
1. 21 Years of Pardes 
Beginning with Pardes, Subhash Ghai's musical-drama released on August 8, 1997, saw King Khan in the role of Arjun. SRK charmed his way into audiences' hearts with his romantic, mature and sensible avatar in the film with the theme on Indian traditions and cultures. While Raj remains SRK's all-time lover boy avatar, it was Arjun that had all qualities of an ideal life partner. On that note, I have to watch Pardes again very soon to relive the love story of Ganga (Mahima Chaudhry) and Arjun. Check tweets for #21YearsOfPardes here.
2. 5 Years of Chennai Express
Next up is Chennai Express, the film that presented Shah Rukh Khan as a 'common man' who should not be underestimated. Don't get confused, it was no social-drama, but a full-on masala flick directed by Rohit Shetty. Chennai Express released on August 8, 2013, and saw Shah Rukh's Rahul romancing Deepika Padukone as Meenalochni! In 2018, Chennai Express celebrated its fifth-year anniversary. Check tweets for #5YearsOfChennaiExpress here.
3. 11 Years of Chak De! India
The third film is our absolute favourite - Chak De! India. It released on August 10, 2007. The Indian sports film directed by Shimit Amin presented us Shah Rukh Khan as Coach Kabir Khan, jinhe "states ke naam na sunai dete hai na dikhai dete hai… sirf ek mulk ka naam sunai deta hai I-N-D-I-A". Chak De! India is not only SRK's best work but remains one of the best Indian movies. The film finds itself in the celebration of the national festival like Independence Day while the title track has unofficially become the sports anthem of India since its release. Such is the charisma of Shah Rukh Khan! Check tweets for #11YearsOfChakDeIndia here.
4. 12 Years of Kabhi Alvida Naa Kehna
Last but not the least is Shah Rukh Khan's Kabhi Alvida Naa Kehna. Another time when King Khan proved he could make any role memorable, be it a hero or villain or something as grey as his character of Dev Saran. Karan Johar's film based on infidelity and unhappiness in marriage, saw SRK pull off an unconventional role with ease. KANK released August 11, 2006, and fans have come together to celebrate #12YearsOfKANK.
Which out of the four characters of Shah Rukh Khan do you love the most? Is it Arjun from Pardes, Dev from Kabhi Alvida Naa Kehna, Rahul from Chennai Express or Kabir from Chak De! India? Do let us know in the comments section. Meanwhile, continue to celebrate Shah Rukh Khan's reign over Bollywood in last twenty-five years. Love you SRK!