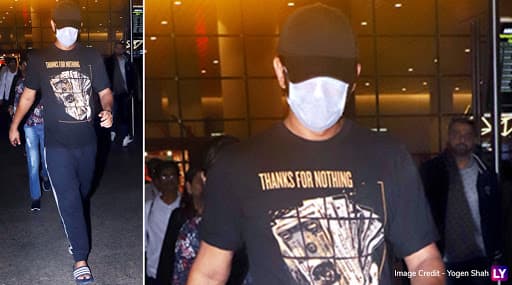 Recently, there were pictures of Sushant Singh Rajput getting into the airport wearing a white mask. You must have wondered what made the actor do such a thing. Many would assume he was just trying to save himself from pollution but that isn't the reason it seems. Sushant was at the airport not to fly off to some discreet location but to receive his family. He didn't want to get mobbed and hence the precaution. That's our guess, though! There's a video which is going viral of the actor waiting for his family to arrive outside a closed door. The mask gave anonymity although in a film-crazy nation, if you are famous, you will get clicked. You may avoid getting mobbed. Sushant Singh Rajput and His Rumoured Girlfriend Rhea Chakraborty Arrive Together at a Friend's Place (View Pics)
The video made us say Sushant was so us. He patiently waited outside till he could spot his family members. Check out the video here...
Sushant had a bit of a strange year. While Chhichhore became one of the biggest surprise hits of 2019, Drive took a Netflix turn. Critics weren't kind towards the film at all. We wonder what would have happened had the movie released at the theatres. His next release is Dil Bechara, a remake of Fault In Our Stars.