Deepika Padukone tied the knot with her six-year-long boyfriend Ranveer Singh in Italy on November 14 and 15. The couple got married twice, once in a Konkani wedding ceremony, followed by a  Sindhi wedding ceremony. The pictures from the wedding that the couple posted were beyond beautiful. It showed us Deepika dresses a bride, styled by Sabyasachi, in a saree gifted to her by her mother. You thought the fan craze behind the pictures had ended? Think again. Fan clubs of the actors have taken over Twitter at the moment. Ranveer Singh Teases Wife Deepika Padukone At Wedding Party, Says She Is Looking like Frida Kahlo on Acid – Watch Video.
The top trending hashtag on Twitter right now is #WorldsMostBeautifulBride. And all the tweets are talking about Deepika. God, the love and affection for the actress are unparalleled. Even after crushing over her pictures for almost two weeks, fans found a way to continue shower her with praises. The craze does not get any more than declaring the actress as World's Most Beautiful Bride. Or does it? We wonder what's next. Check out the top tweets below.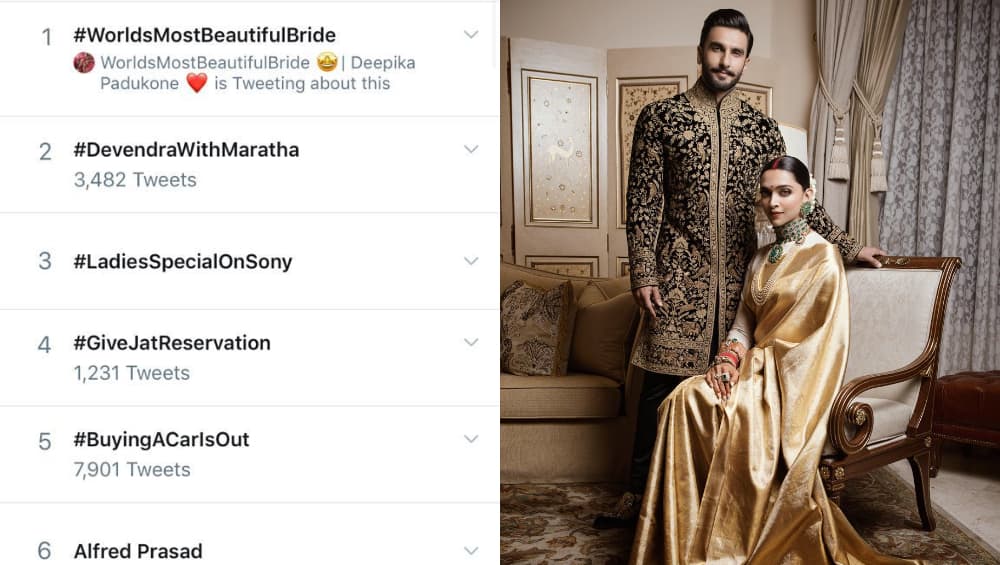 She truly is #WorldsMostBeautifulBride pic.twitter.com/TaG1poZ58D

— Divinegirl_deepika (@Pathak13Arya) November 29, 2018
Bow down to the Queen 😍

She is the epitome of elegance every bride has to have on the most important day of her life ✨

To the #WorldsMostBeautifulBride, @deepikapadukone ❤️

Thank you for being Bride Goals 💥 pic.twitter.com/3d2pWWrotm

— WorldsMostBeautifulBride 🤩| Deepika Padukone ❤️ (@DeepikaHolics) November 29, 2018
Just can't take my eyes of this beautiful bride 💖 @deepikapadukone #WorldsMostBeautifulBride pic.twitter.com/3fwZCGdlr1

— Garima Arora (@ModelGarima) November 29, 2018
She is Queen of Bollywood

She is #WorldsMostBeautifulBride pic.twitter.com/Q7t2f5LAiW

— Ladkiwale👰 MayurZad (@MayurZad) November 29, 2018
To all the ones who are inquisitive and wanting to know who is the #WorldsMostBeautifulBride. The answer is @deepikapadukone pic.twitter.com/Xutdpthxr1

— M Ajith (@Ajithspeaks) November 29, 2018
Pictures from the wedding in Italy had been the most awaited visual for everyone, therefore, as soon as the Deepika Padukone dropped the first images from the wedding, the internet went berserk. Now, the fans cannot get over the regal beauty of Deepika Padukone as she continues to spread her charm through the various reception pictures.
After the wedding and receptions at Banglore and Mumbai, fans now await the final reception taking place at 1st December in Mumbai.