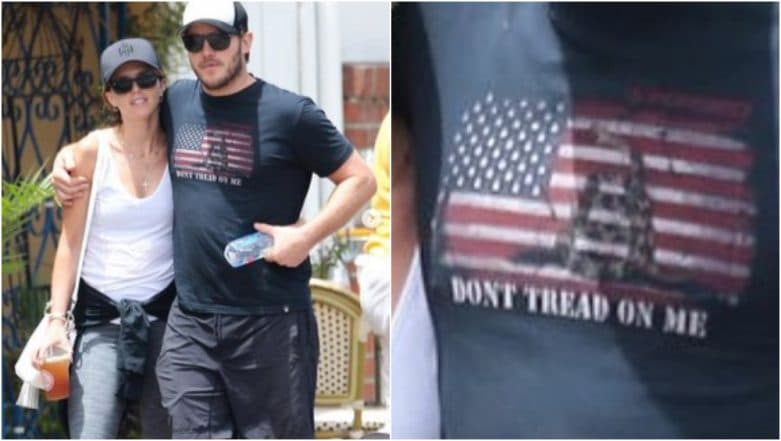 Chris Pratt has run into trouble again for his political views. The Avengers: Endgame actor was snapped wearing a T-Shirt that has irked users on social media. The actor's t-shirt showed the US flag along with a coiled snake. The message on his t-shirt reads, "Don't Tread On Me." The snake combo that is seen on Pratt's T-shirt is also depicted on the Gadsden flag; a symbol created by Christopher Gadsden, a Charleston-born brigadier general in the Continental Army. Chris Pratt And Katherine Schwarzenegger's Honeymoon Tales in Hawaii Is All About Relaxing - Read Details!
It came to prominence during the Revolutionary War of the US by colonists who wanted independence from Great Britain. The T-shirt has now got everyone talking and Twitter has been quick to criticise the 40-year-old after he was spotted wearing it. The symbol is being criticised because it has been adopted by Far Right political groups like the Tea Party, as well as gun-toting supporters of the Second Amendment.
Check out the Twitter reactions here:
#Tweet1:
Chris Pratt isn't wearing a white supremacist shirt. That symbol has been used since the revolution. The snake had 13 parts and together they were strong, but apart they were worthless. It was to gather support for independence from Britain, not white supremacy#ChrisPratt

— Ben 🏳️‍🌈 (@ben_is_upset) July 16, 2019
#Tweet2:
White Supremacy: Anything that deviates from the worship at the alter of Big Government.#DontTreadOnMe

— MarionJWayne (@marionjwayne) July 17, 2019
#Tweet3:
#ChrisPratt The amount of people bitching about his shirt makes me sad. Do these people look for something to get triggered? I am not white but feel sad for these guilty souls.

— goutham edara (@goutham_fab4) July 16, 2019
#Tweet4:
#ChrisPratt living his life while Team Woke tries to cancel him for nonsense yet again. pic.twitter.com/8MGfeUAlVN

— A Fool to Cry (@afooltocry) July 17, 2019
#Tweet5:
I like him, but all these small things about his politics makes me wonder when he'll say something transphobic, tank his career, and do the full heel-turn into a Fox commentator https://t.co/Emfzd02GmK

— Tim Byrnes (@timbyrnes89) July 16, 2019
On the work front, Pratt has most recently been promoting the first trailer of Pixar's new animation Onward in which he plays one of two teenage elf brothers, alongside Tom Holland.