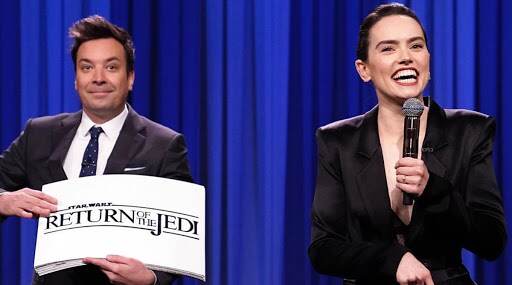 Ahead of the new film in the Star Wars franchise, Stars Wars: The Rise of Skywalker's release in December this year, actress Daisy Ridley has found a way to give everyone a quick recap without making everyone watch the films again. Yes, eight films are a lot to catch up on and hence during her recent appearance on The Tonight Show Starring Jimmy Fallon, Daisy had the perfect treat for fans of the franchise as she recorded a fun video rapping the story of all eight films. Star Wars: The Rise of Skywalker's New Poster and Entertainment Weekly's Three New Covers is What Fans' Dreams are Made Of (View Pics).
In the video, Ridley looks stunning in an amazing black suit with a plunging neckline. The actress who is known for essaying the role of Rey in the Star Wars franchise, nails her act and we have to say who knew she could be such an amazing rapper. Beginning the rap recap with the iconic Star Wars quote, "In a galaxy far, far away", Ridley takes us through every iconic moment of the eight Star Wars films.
Check Out Daisy Ridley's Rap Recap of Star Wars Here:
The video has received an amazing response from fans. Twitterati particularly pointed out how amazing it was to see Ridley mouthing late actress Carrie Fisher's lines, "help me obi-wan kenobi, you're my only hope" from the film. Star Wars: The Rise of Skywalker Final Trailer: Daisy Ridley's Rey Sets out on a Mission to Fight a War and End a Beautiful Era (Watch Video).
Star Wars: The Rise of the Skywalker is the ninth film in the franchise. The JJ Abrams directorial brings back actors Adam Driver, Oscar Isaac, John Boyega among others. The film is all set to release in theaters on December 20.