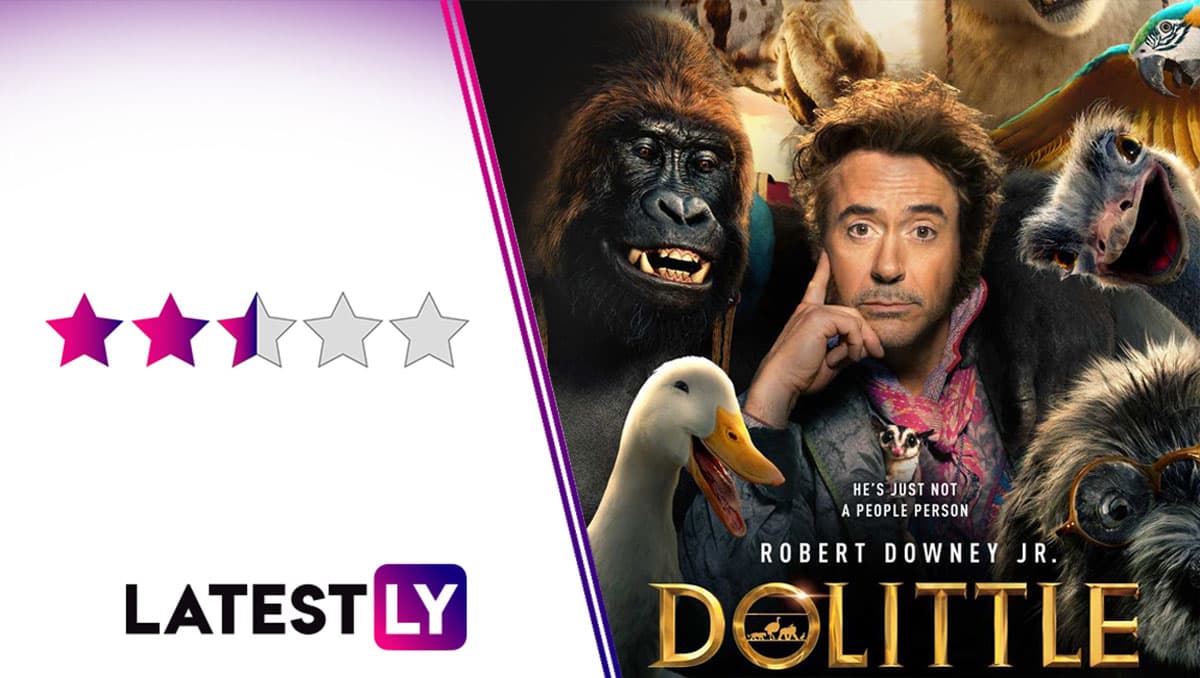 Dolittle Movie Review: After losing his wife to the sea, Doctor John Dolittle (Robert Downey Jr) has become a recluse and has retired himself to his estate. There, he continues to talk to his animals and treats them of their various ailments. However, an urgent medical business involving a terminally ill Queen Victoria (Jessie Buckley) brings Dolittle out of his self-imposed exile, as he and his animal friends set sails to a mythical island to find the cure for her. A young boy, Tommy Stubbins (Harry Collett) also accompanies them, attracted by Dolittle's methods of talking to the animals. Of course, their path is not without peril, as they are often bothered by Dr Blair Mudfly (Michael Sheen) who wants to vanquish Dolittle and see that the Queen doesn't recover. Dolittle Movie Review: Robert Downey Jr Is Stellar, but Failed Jokes and a Dull Script Leads the Movie in a Wrong Direction, Say Critics.
Dolittle, directed by Stephen Gaghan of Syriana fame, is based on Hugh Lofting's books, The Voyages of Doctor Dolittle. The character had been earlier visited by Eddie Murphy in the 1998 film Dr Dolittle. While that film was set in contemporary times, the new version/reboot takes the character back to Victorian ages with a splash of fantasy (dragons, anyone?).
Dolittle is Robert Downey Jr's first non-MCU in six years after 2014's The Judge, keeping himself very busy with his Marvel appearances. The movie is also produced by him. But despite having one of the biggest stars of the world in the lead, and a large array of exciting talents to voice the various animals, Dolittle has seen a very troubled production, going for extensive reshoots and ballooning its budget.
So has the reshoots made Dolittle a better film or made it go the Justice League way? Visually, the movie looks appealing and, save for a few bothersome VFX blotches here and there, the CGI creations are attractive enough to keep the kids hooked. As for the adults, the story could turn out a lot different.
In spite of a very contained runtime of 106 minutes, Dolittle feels a very disconnected film that offers a few laughs but nothing more than that. With a premise that is reminiscent of Pirates of the Carribean saga, if the latter had a less crazed lead and more talking animals, Dolittle is entertaining in parts but is very forgettable the moment you step out of the theatre. With a predictable plot, we expect the treatment and the screenplay to help Dolittle sail through the choppy waters. Sadly, they don't, making it a very plain CGI-infested film aimed purely at the tiny tots who may have a chuckle over a dragon passing gas.
There are a couple of interesting threads that the film delves into, - like Dolittle not wanting to let go of his wife's memory, or a gorilla Chee-Chee (Rami Malek) with anxiety issues. But they feel like subplots shoehorned into a narrative that treats them like passing mentions. Save for Dolittle, none of the other characters, humans or animals, aren't fleshed out enough. Like, there was a whole lot you could do with Antonio Banderas' character in the film - Rassouli, the king of the pirates and Dolittle's father-in-law. Banderas even looks amazing in the part. Dolittle, however, chooses to glide over these wonderful actors, which also goes for the amazing Jim Broadbent. Well, at least, in the process of doing so, the film doesn't drag.
What saves the movie, though, is the voice-cast, who makes good with their lines and makes Dolittle sporadically funny. Any scene involving the polar bear Yoshi (John Cena) and his frenemy, the ostrich Plimpton (Kumail Nanjiani) is very funny, and so are the scenes involving the down-on-love dragonfly James (Jason Mantzoukas). Even Ralph Fiennes' cameo as the tiger Barry who has a bone to grind with Dolittle is interesting, more so with how the actor makes his voice variate from ferocious to someone needing emotional help. Emma Thompson also is very convincing as the macaw Polynesia, who advises Dolittle every now and then, whether he heeds them or not.
However, some other starry voices like Tom Holland, Selena Gomez and Marion Cottilard don't get much to do. Selena Gomez Is Proud of Her Powerful 2019, Says 'I Want to Go in Life, and Hope for the Best'.
Watch The Trailer of Dolittle here:
Speaking of the leading man, on whose magnetic personality Dolittle is being sold, RDJ is uncharacteristically the least interesting of the lot. Which is strange, since, in any MCU movie, this actor could practically steal a scene by merely standing in a frame. Here, equipped by a dodgy accent (Welsh, is it?), Robert Downey Jr feels very out of place among the CGI creations, despite a Chaplin-esque performance. On the other hand, Michael Sheen as the main antagonist delivers a gloriously OTT scenery-chewing act.
Yay!
- Some Funny Moments
- The Voice-Cast
- Visually Appealing
- Works for the Kids
Nay!
- RDJ's Strangely Disconcerted Performance
- The Very Predictable Forgettable Premise
- The Writing and the Treatment
Final Thoughts
Dolittle is a film that could appeal to the kids and some of the jokes are entertaining for the adults too. Ultimately, though, Dolittle feels like a huge opportunity ( and a huger star Robert Downey Jr) done 'little' by its very unimpressive plotting and unimaginative treatment.