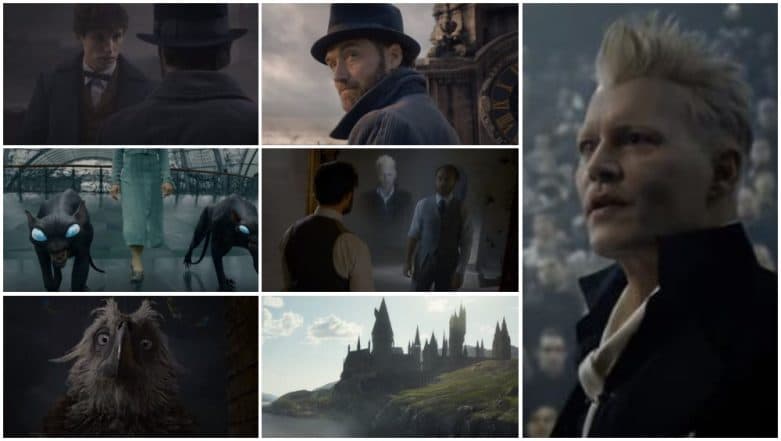 The first Fantastic Beasts and Where to Find Them movie was a decent Harry Potter spin-off, that may not live up to the reputation of the main canon but was entertaining nevertheless. Set years before Harry Potter was even born (or for the matter, Lord Voldemort), the first movie introduced us to Eddie Redmayne's Newt Scamander and a whole loads of magical creatures. It also introduced us to the biggest Dark Wizard before Voldemort, Gellert Grindelwald, played by Johnny Depp.
The sequel, Fantastic Beasts: The Crimes of Grindelwald, will bring the action back to UK (the first movie was sent in the US) and to every Potterhead's fave place, Hogwarts. Featuring a young Albus Dumbledore (played by a charismatic Jude Law), the movie pitches him with Scamander to take down an old friend. The new trailer (launched at San Diego Comic-Con 2018) shows loads of incredible action and creatures. And it is so goddamn exciting! Towards the end, it also gives us the first glimpse of the longest living wizard ever, Sir Nicholas Flamel.
Check out the trailer of Fantastic Beasts: The Crimes of Grindelwald -
Katherine Waterston, Dan Fogler, Alison Sudol and Ezra Miller also return from the first Fantastic Beasts film to reprise their characters. The new players in the cast are Zoë Kravitz, Callum Turner, Claudia Kim and Carmen Ejogo. Based on author JK Rowling's characters, the movie is directed by David Yates.
Fantastic Beasts: The Crimes of Grindelwald is scheduled to be released on November 16. So how did you find the trailer of the movie? Share your thoughts in the comments section below.