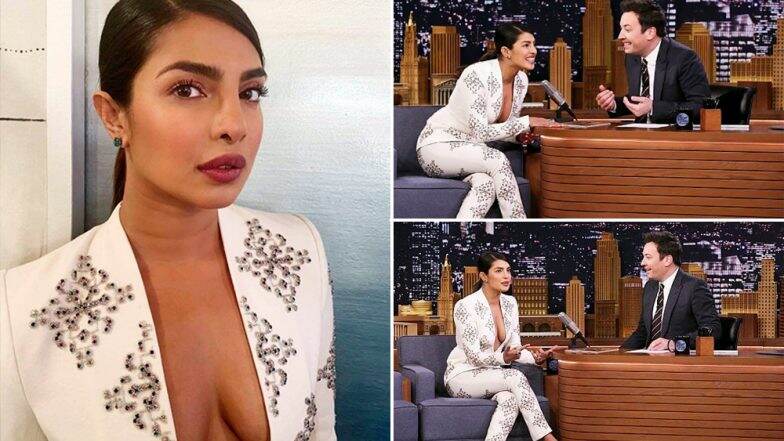 Priyanka Chopra and Nick Jonas' starry wedding is still a huge topic of discussion for the fans. From their expensive wedding pics to their post-wedding shenanigans, everything is just being discussed to the core by the netizens. However, this time, the global icon got trolled mercilessly, especially after her appearance on The Tonight Show Starring Jimmy Fallon when she went to promote 'Isn't It Romantic?'. Not just racy jacket but her statements on marriage and name-change too were called out by the fans. Priyanka Chopra's Pantsuit Ensembles Teach A Very Important Life Lesson; Go Big Or Go Home!.
She wore a white pant-suit while attending this chat show. She looked gorgeous but it was her deep plunging neckline that attracted the flak from the trolls. As she went bra-less for her appearance here, the fans shamed her for the same.
However, this was not the only reason why she was criticized. It was her statement on adding 'Jonas' to her name after marriage that irked the fans. When asked about the same, PeeCee explained, "I always wanted to add his name to mine because I feel, like, you know, we are becoming family. And I'm a little traditional and old school like that. It doesn't take away my identity. He gets added to who I am."
The netizens questioned her terms like 'traditional' and 'old school' while on the show wearing a bold outfit. Some even questioned that why was she being choosy about being 'old school' only in the certain aspects of her life.
Check Out Priyanka's Interview Here
View this post on Instagram
To make things worse, there is her old statement floating on the Internet again when she had said, "I buy my own diamonds. When a guy comes into my life it will not be for diamonds. A guy will be in my life only when I am in love. I don't need a guy for anything else except for children..." What she talked about being old-school and him being her family is totally contradicting this and the fans were quick enough to point that out. Priyanka Chopra's Love For Diamonds is Everlasting and Her Stylish Pics at NYC's Tiffany & Co are Proof!.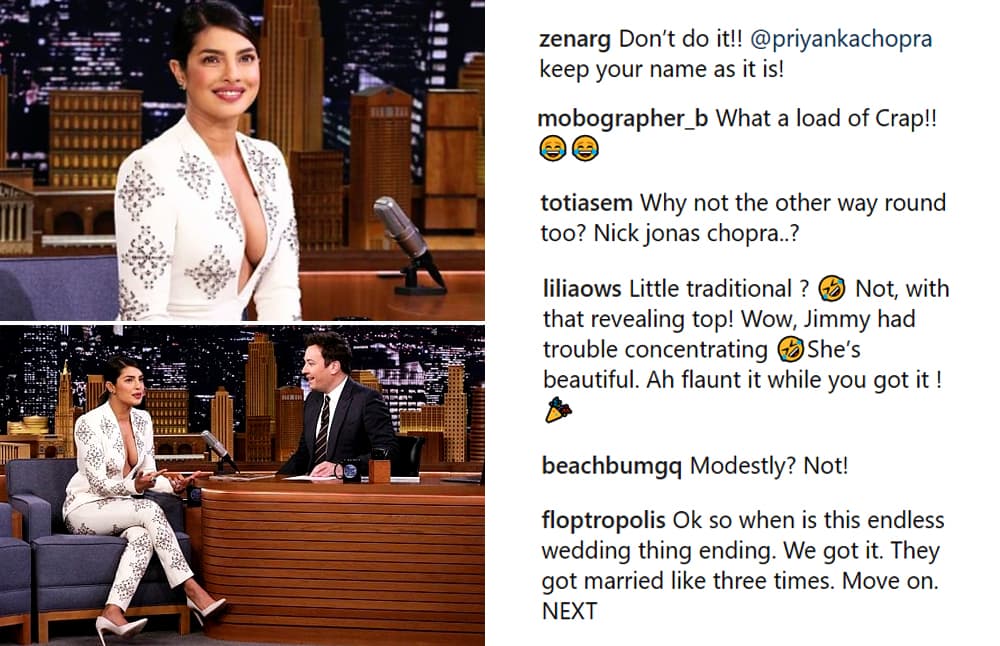 Fans are posting some really nasty comments as well as curious ones over this statement and her outfit at the Jimmy Fallon show. We wonder whether PC has any accurate justification over the contradictory statements for her fans now!