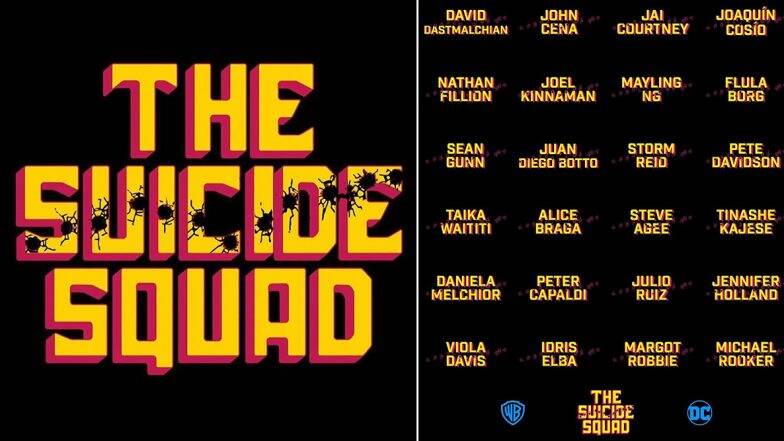 Guardians of the Galaxy director James Gunn is back and will be heading the second instalment of the DC universe's black ops unit The Suicide Squad. In a post shared by Gunn on Instagram, the entire cast of the movie was revealed and a majority of fans were relieved to find a few familiar faces from the first franchise like Margot Robbie, Joel Kinnaman, Viola Davis and Jai Courtney, return to this one. However, they were also quick to question the absence of Will Smith and Jared Leto. Also, the new additions to the cast include names like John Cena, Idris Elba, Alice Braga, Peter Capaldi,  Nathan Fillion, Storm Reid, Taika Waititi and Jennifer Holland. I'm Enormously Excited About Directing 'The Suicide Squad', Says James Gunn
However, looks like fans will have to brace themselves for some heartbreaks, for James Gunn, captioned his Instagram post featuring the cast list with a very cryptic "Don't get too attached" caption. James Gunn's Brother Sean Gunn to Join The Suicide Squad? The Actor Reveals the Truth
Check Out His Post Below:
View this post on Instagram
Well, heard about 'read between the lines'? Looks like fans will have to do the same. And while James' post on Twitter has left fans of the movie excited, there is a section of dejected fans, who were quick to question the absence of Will Smith and Jared Leto from the second instalment. However, fans were also quick to let James Gunn know that they were also fine with Leto making a quick cameo appearance in the movie.
Take A Look At Some Tweets Below:
Getting straight to the point:
What about Jared Leto?????

— Tracy (@tcondren33) September 13, 2019
A Joker loyalist is royally pissed:
Ticks me off how they misused Jared Leto and then continue on with the franchise as if he didn't pour his soul and heart into his character. That's Hollywood for you, though. Gotta love them politics. 🙄 #LostInHollywood https://t.co/jUmU6M3CYf

— Gabby (@gbluebelle) September 13, 2019
Well, it kind of was a given assumption that if James Gunn were to step in as the director for Suicide Squad, there were chances of Jared Leto not being a part of the project, given their beef, when the former's tweet replies to Dylan Sprouse implied that Jared was a paedophile.
Check Out A Screenshot of the Tweet Below:

As per a report in comicbook.com, the entire team will first shoot in Atlanta, Georgia for three months before going international, to Panama for a month's schedule thereafter. For those who do not know what The Suicide Squad franchise is about, the DC movie follows a team of (all of DC) bad guys who are put together by the government, for special black ops missions in exchange of leniency in terms of their sentences. The second instalment has been written and will be directed by James Gunn and will release on August 6, 2021.