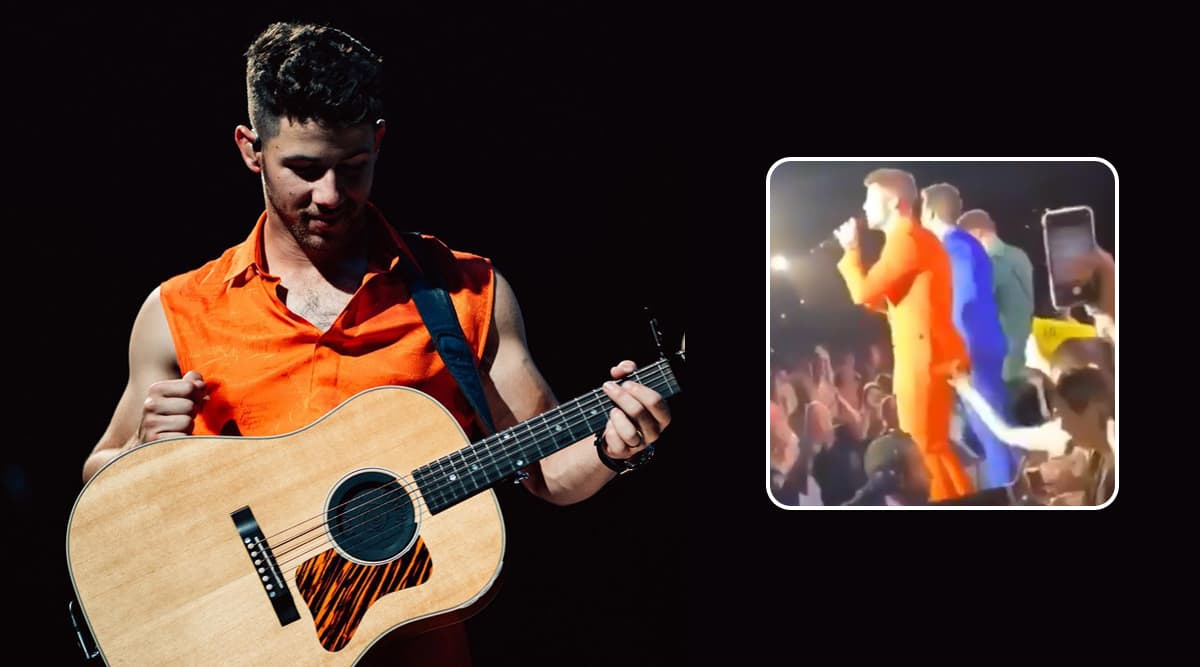 The Jonas Brothers are currently busy travelling the world for Happiness Begins Tour. Kevin Jonas, Joe Jonas and Nick Jonas are putting up some amazing performances. And there have been often occasions when these handsome hunks' spouses also accompany them to the event. The trio recently performed at the Golden 1 Centre in Sacramento, California. They crooned to some of their hit tracks, and in fact Nick also performed to one of his own song "Jealous". But right now there's a video from the event that is going viral across social media platforms. Priyanka Chopra Cheers for Husband Nick at the Jonas Brothers Concert But it is the Duo Stealing an Adorable Kiss That Fans Can't Get Over (View Pics and Videos).
This is a video from the Happiness Begins Tour in which a fan is seen touching Nick Jonas inappropriately while he is performing onstage. It is clearly seen in the video that Nick wasn't pleased by this fan's behaviour. The guards immediately intervened when the fan tried to touch the pop singer, however that did not stop the person from doing it again. This behaviour has left Twitterati upset, and we wonder what Priyanka Chopra Jonas has to say about it. Priyanka Chopra Is Happy to Pass Along a Fan's 'Bra' After She Throws It at Nick Jonas During His Recent Concert (Watch Video).
Here's That Viral Video
WTF😠🤬 this is very disrespectful!! pic.twitter.com/he2KGmm2qS

— Nick Jonas FAN 🍭🆒 (@NickJDaily) October 22, 2019
Here's How Fans Have Reacted
Clearly Upset
Find out who the b**** is and drag her like his WIFE is dragged EVERYDAY for NOTHING!!!!
— DianaB73 (@diana_b73) October 23, 2019
Reminder To Not Cross The Line
To the girl(s) who keeps touching the boys : you need to give the boys respect don't make them feel uncomfortable.

— RebekaHerr (@HerrRebeka) October 23, 2019
Possibly...
This probably ruined his whole night. It's never okay to sexually assault someone, let alone in front of literally thousands of people??

— lexi 🌟 (@worldwarjonai) October 23, 2019
BEHAVE
They were trying to basically grope @nickjonas that's not right things like this need to stop

— Happiness Begins (@JessieJonas95) October 23, 2019
Don't Make Celebs Feel Uncomfortable
This is honestly so hard to watch. Can they not get it through their heads that Nick is clearly uncomfortable as he turns back to look at them and tried to swat their hand away? Ugh, this is not how you should treat them. Theyre people just like us who don't need to feel violated

— Alyssa | I REALLY MET LEWIS CAPALDI 😍 (@acoots98) October 23, 2019
Fans Need To Stay In Limit
the fckkkk is wrong with some of you "fans" 🙄 smh

— andrea🌻 (@dreadreaa) October 23, 2019
There have been often occasions when fans cross their limits when they see their favourite celebs right in front of them. From trying to get a picture or getting onstage, there have been numerous incidents that have happened in the past that celebs have had to deal. Stay tuned for more updates from the world of entertainment!