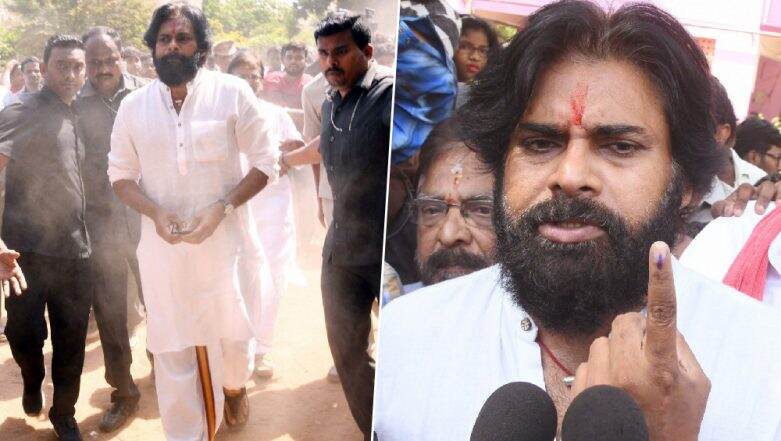 The first phase of Lok Sabha Elections 2019 has started today (April 11) and many of them have stepped out to cast their vote. The Tollywood stars who have already exercised their voting rights have urged their fans as well to cast votes. Pictures of Telugu actor Pawan Kalyan has flooded on the internet when he went to cast his vote in Vijayawada. After casting vote, the JSP Chief also opened up about the Electronic Voting Machines (EVMs) not working. Lok Sabha Elections 2019: Tollywood Stars Jr NTR and Allu Arjun Casts Vote in Hyderabad (Watch Video).
After casting the vote, Pawan Kalyan in an interaction with the media was quoted saying, "I would like to bring to the notice of the chief election commissioner that more than 10 percentage, close to 10 percentage EVM's are not working. And we don't know the reasons why they are not functioning, which is quite important not only for the state but the entire nation. And if it is one per cent or two per cent we could understand, but it is 10 per cent. And also there are reports, if you're pressing one button it is going to one party and these kinds of reports are coming and I want the election commission to look into it and respond on that." Catch all the Live Updates of Lok Sabha Elections 2019 here:
Watch the video of Pawan Kalyan talking about EVM malfunctions:
' More than 10%EVM's are not working'

Janasena Chief #PawanKalyan after casting his vote!!#ResponsibleTollywood #IndianElections2019 #StarSpotting pic.twitter.com/PWq4yI01lY

— Telugu FilmNagar (@telugufilmnagar) April 11, 2019
JSP chief Shri #Pawankalyan cast their vote At Vijayawada #Election2019 pic.twitter.com/Sh5wxXbD4p

— MOVIES Updates (@moviesupdatesIn) April 11, 2019
Tollywood stars Allu Arjun, Jr NTR, Amala Akkineni and many other south stars have cast their votes. They have also appealed to their fans to go out and cast votes for the Lok Sabha Elections 2019. Stay tuned for further updates.