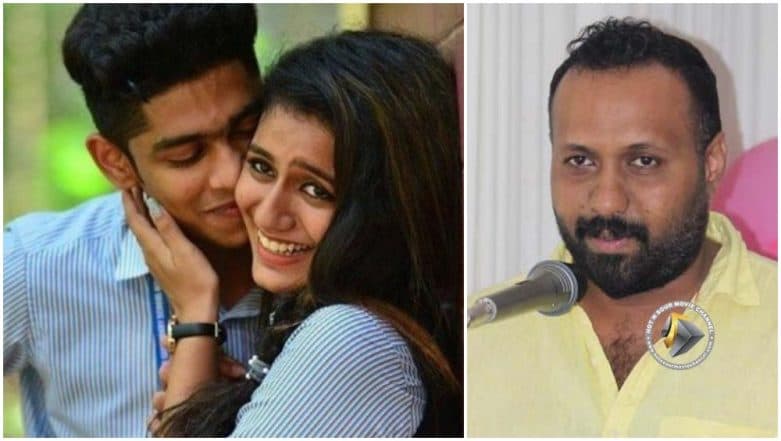 The hype for Malayalam film Oru Adaar Love started last week, when the video of its actress Priya Prakash Varrier became a viral sensation. Priya Varrier became an instant celebrity thanks to the video and many from Bollywood and Kollywood were smitten by her looks and her wink. Thanks to the hype created for the film, Oru Adaar Love was much in demand from distributors from other states. Noorin Shereef Disappointed With Makers of Oru Adaar Love; Is Wink Girl Priya Prakash Varrier Also to Be Blamed?
However, the movie opened to very poor reviews and was a flop at the box office. Now in a recent media interaction on a Malayalam channel, Oru Adaar Love director Omar Lulu proportions some blame on Priya Prakash Varrier and Roshan for trying to make changes in the movie, after they became popular. He is also unhappy that they ditched him after the movie tanked at the box office. Oru Adaar Love: Malayalam Movie Buffs Aren't Impressed With Winking Sensation Priya Prakash Varrier's Film; Makes Memes on Its Poor Reviews.
Omar Lulu said, "When the shooting began, everyone was innocent – and that's what I wanted. But suddenly some of them became famous. There came a rift between the actors. Priya and Roshan became very conscious. These kids who never asked the story of the film before suddenly began giving their opinions on the story."
Interestingly, Priya Varrier was never to be the heroine of the film, as she only was to have a supporting role. It was Noorin Sherif who was to have the lead role. However after the song "Manikya Malaraya Poovi" became a hit thanks to Priya Varrier's celebrity status, Lulu claims that the producers insisted on expanding her role in the film. This led to a delay in releasing the film by nearly a year. Oru Adaar Love Director Omar Lulu Never Wanted Priya Prakash Varrier as the Lead of his Movie.
Earlier in an interview, Lulu said, "When the song became a huge hit, I insisted the producer that the film should be made with good quality. At this moment, producers of both the Malayalam and Telugu versions asked me to make the movie with Priya Prakash in the lead. Earlier, the theme of the movie was very different. Initial storyline of the movie was about a young couple who gets murdered. But things did not work, as producers asked me to make a movie in a different manner by highlighting Priya."
Oru Adaar Love saw changes even after the release too. After the movie was criticised for its tragic ending that came out of nowhere, Lulu shot for a new, happy ending and replaced the prints before the first-week run. But by then, the damage has already been done.