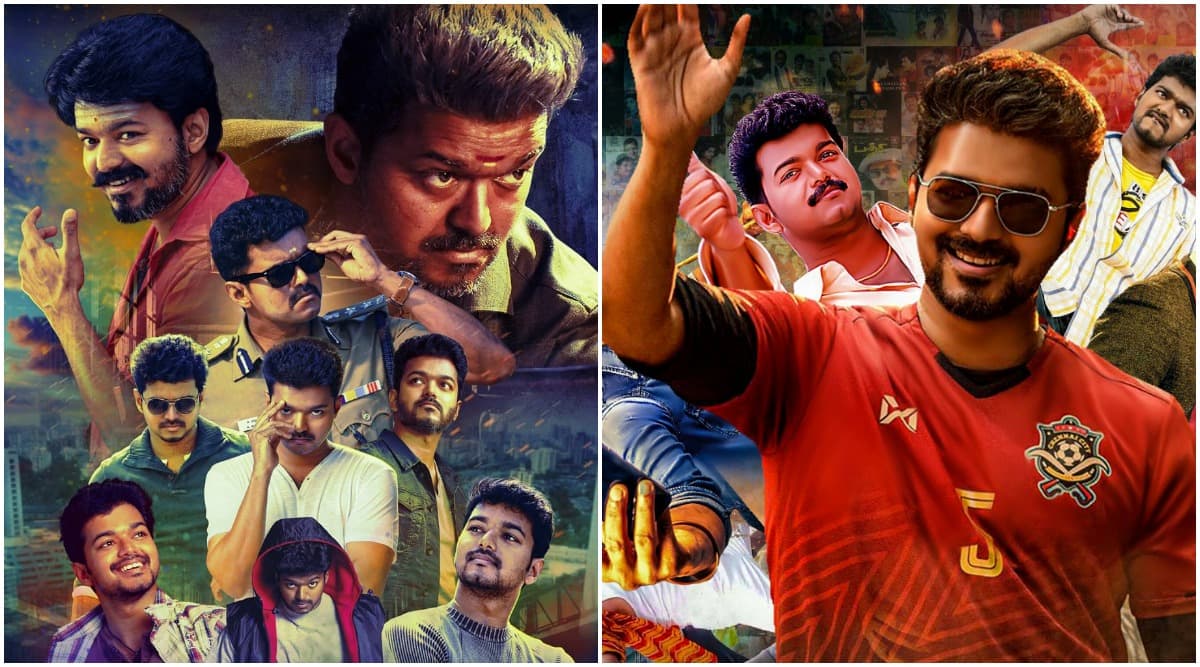 Vijay is one of the most sought after actors in the Tamil film industry. Fondly called as Thalapathy by fans, the 45-year-old actor has completed 27 years in the film industry. This indeed calls for celebration and many have kick started it already. Twitterati are using the hashtag #27YrsOfKwEmperorVIJAY to mark this special occasion. This comes as no surprise if it becomes the top trend of the day. Vijay has strong fan clubs across social media platforms and it is unimaginable how these fans shower tons of love and extend their support to Vijay. Thalapathy Vijay's Wax Statue Unveiled at a Museum in Kanyakumari (View Pics).
Thalapathy Vijay was born to Tamil filmmaker SA Chandrasekhar and playback singer Shoba. He made his acting debut at the age of 10 as a child artist in the film Vetri (1984) that was helmed by his father. It was from the age of 18 he started to feature in lead roles and the first film in which played the lead was Naalaiya Theerpu, released in 1992. It was the 1994 film Rasigan in which Vijay sported the 'Ilaiya Thalapathy' title along with his name, and became popular amongst fans and media. But his first acclaimed performance, the movie that shot Thalapathy to fame was Poove Unakkaga. On his completion of 27 years in the film industry, fans have shared numerous throwback pics of the actor and wished him with heaps of love. Let's take a look at them! '7 Years Of Mega BB Thuppakki': Fans Recall the Best Moments from Thalapathy Vijay Starrer!
Vijay Is Also A Fabulous Singer
#ThalapathyVijay is the only actor to have sung songs for all leading music composers like Illayaraja, ARR, Deva, Vidyasagar, S.A.RajKumar, Sirpi, Harris Jayaraj, Anirudh, Imman, GVP, DSP, Yuvan, Santhosh Narayanan#27YrsOfKwEmperorVIJAY

— Vijay Fanz Page (@vijayfanzpage) December 4, 2019
27 Years Of Vijay In Kollywood
Thalapathy Vijay Sir!❤#27YrsOfKwEmperorVIJAY pic.twitter.com/xFd7bvYLVt

— Lokesh Kanagaraj (@Dir_Lokesh__) December 4, 2019
27 Years Of Vijayism
#27YrsOfKwEmperorVIJAY pic.twitter.com/miDPvShBOC

— Thalapathy Subash ⚽ (@subash03237277) December 4, 2019
The Perfect Star
❤️27 Years Of Facing Struggles

♥27 Years Of Facing Crisis

♥27 Years Of Self-Confidence

♥27 Years Of Hardworking

♥27 Years Of Dedication

♥27 Yrs Of Being Unrivalled

Commander in his Industry

The Name is Thalapathy#Bigil @actorvijay ❤💪

— R ᴏ ᴄ ᴋ y シ 🍁 (@_MrRocky) December 4, 2019
Vijay Is More Than Being Just An Actor
◽ Guardian For More Than 40 Medical Students & More Than 20 Engineering Students

◽ Helping For The Development Of Many Schools In Rural Area

◽ Every Year He Donates Money For Various Trusts @actorvijay A Man With Golden Heart

Being vijay is not easy#27YrsOfKwEmperorVIJAY

— τнαℓαρατнy rαsigαi💙🧚‍♀️ (@thalapathyfan03) December 4, 2019
Fans Know It All
December 4 ,1992 started his career in cinema and now December 4,2019 completed 27 years in cinema Industry🔥

7 💯 cr films

Three 250cr+ cr films and That three is continuosly films

One 300cr+ film

Most no of 1M + liked videos in YouTube(5)#Bigil#27YrsOfKwEmperorVIJAY pic.twitter.com/BMbbCLHpY1

— JIJIRAJ MJ 🇮🇳 (@JijirajVj) December 4, 2019
Do You Remember This?
Emperor #27YrsOfKwEmperorVIJAY pic.twitter.com/qI9y1bwd7S

— Surya Mon (@SuryaMon1) December 4, 2019
Few Fan Made Designs To Honour Thalapathy Vijay
Some Uber cool designs flooding up in Twitter ❤️ kudos to all the designers !#27YrsOfKwEmperorVIJAY pic.twitter.com/blVfuWmFS3

— J I V E N ™ (@Jiven_raj) December 4, 2019
All Love For Vijay
27 Years Of Kollywood Samrat VIJAY 😎🔥#27YrsOfKwEmperorVIJAY #Bigil pic.twitter.com/BXCBZwH7Vl

— தளபதி சுமன் ᴮᶦᵍᶦˡ (@Suman_STE) December 4, 2019
#27YrsOfKwEmperorVIJAY
#27YrsOfKwEmperorVIJAY #Bigil #Thalapathy #27YrsOKwEmperorVIJAY #Bigil #Thalapathy ....#Verithanam pic.twitter.com/NHwzvgkoqC

— தளபதி ŠÜřïýĄ (@SURIYA64986461) December 4, 2019
On the work front, Thalapathy Vijay was last seen in the sports drama Bigil, which again was a blockbuster. He played the role of a father and a son, leaving the audience absolutely enthralled with his performance. His upcoming project is with director Lokesh Kanagararaj. The film is tentatively titled as Thalapathy 64.