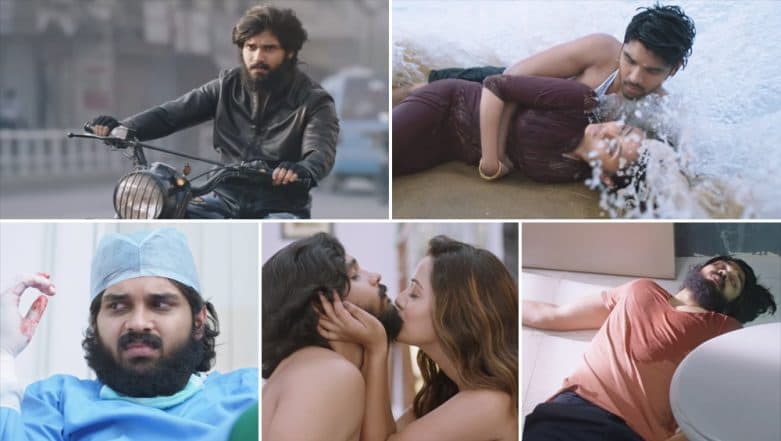 Arjun Reddy was one of 2017's critically acclaimed hits in Telugu cinema, while also establishing Vijay Deverakonda's superstardom. The young, dynamic actor was highly impressive in as a doctor struggling with bipolar disorder, alcoholism and heartbreak. Arjun Reddy received high praise for the performances and the direction, though it was also criticised in the way the lead treats the women in his life. The movie has impressed Tamil superstar Chiyaan Vikram to chose it as a launchpad for his son, Dhruv. Shahid Kapoor and Kiara Advani Starrer Arjun Reddy Hindi Remake Titled Kabir Singh.
So in Tamil, Arjun Reddy is now Varmaa, as Dhruv Vikram steps into Vijay Deverakonda's shoes. The first trailer has been unveiled by Chiyaan Vikram's colleague, Tamil superstar Suriya Sivakumar on January 9. He has tweeted, "Here's to a promising career..!! @DhruvVikramOffl". Tamil Actor Vikram's Son Dhruv Rams Car Into Auto Rickshaws Injuring 4, Out on Bail.
Talking more about the trailer, it is a dialogue-less promo that is more invested in the emotions of the lead character, as he goes into a downward spiral after losing his love. Dhruv has nailed all the different looks of his character right, though he looks a bit too young even with that beard. Megha Chowdhury is the female lead, while Bigg Boss fame Raiza Wilson is also a part of the film.
Watch the trailer of Varmaa here -
Acclaimed director Bala has helmed the remake that also stars Easwari Rao, and Akash Premkumar in important roles. Though the makers haven't specified any particular date, Varmaa is scheduled to release in February. Do share your thoughts about the trailer in the comments section below.