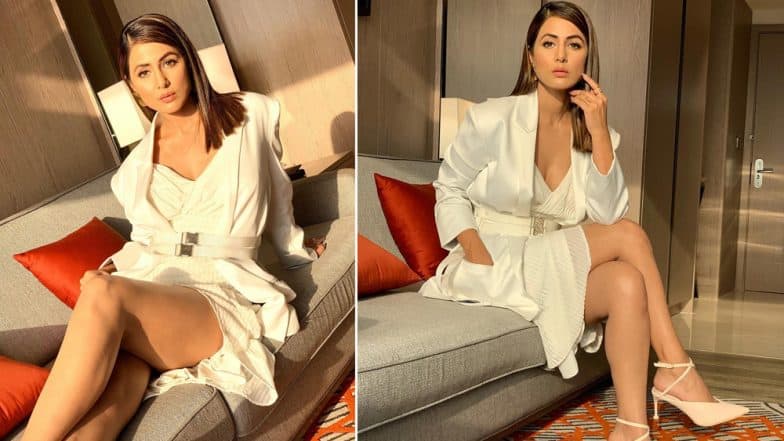 Hina Khan's entry as Komolika in Kasautii Zindagii Kay 2 was one much delayed and much-awaited entry. She entered the show after almost two months of it going on-air, only to disappear soon after and then entered when the show started its third month. By then, a few unhappy Hina Khan fans started raising the issue of Komolika being given less screen space than the other characters. And just when Kasautii… has reached its high point where Anurag (Parth Samthaan) will leave Prerna (Erica Fernandes) and marry Komolika, there is talk of Hina Khan leaving the show. Hina Khan Fans, Rejoice! Kasautii Zindagii Kay 2's Komolika to Make Her Bollywood Debut Soon!
Well, not exactly leaving or quitting. The actress will not be seen on the show come March, for the lady has some prior commitments that cannot be skipped. Confirming her absence from the show to SpotboyE, Hina set the record straight once and for all.
The lady said, "It's true that I will not be seen on the show post-March. But, the only reason is my prior commitment towards films." And when she was questioned whether or not she'd return to the show, Hina's reply kinda shocked us. Hina Khan Shares Last Few Pictures of Komolika Before She Bids Adieu to Kasautii Zindagii Kay 2 in May
"Depends, I might or I might not. The production wanted me to stay, it's me who wants to go and the reason is only films. They understood and have given me a break. You never know I might come back," said Hina.
For those who have come in late, Hina will soon be making her Bollywood debut with Hussain Khan's movie titled Lines. Set in Kashmir of the 1990s, the film is a 'female-centric' project, that Hina has revealed, will give her the opportunity of 'challenging herself in a new medium'. She was also quoted in an earlier interview as saying, "I also love the fact that it's set in a time and place, where we are away from the hustle and bustle of city life, technology, daily rush and competition." Hina Khan's Bollywood Debut: Guess WHO Has Bagged The Lead Role Opposite The Kasautii Zindagii Kay Actress!
Now that Hina's fans' worst nightmare is almost coming true, they can only pray that Hina fulfils all of her commitments and returns to the screens ASAP. And while she is gone, we hope that the makers justify her absence and do not think of replacing the lady.