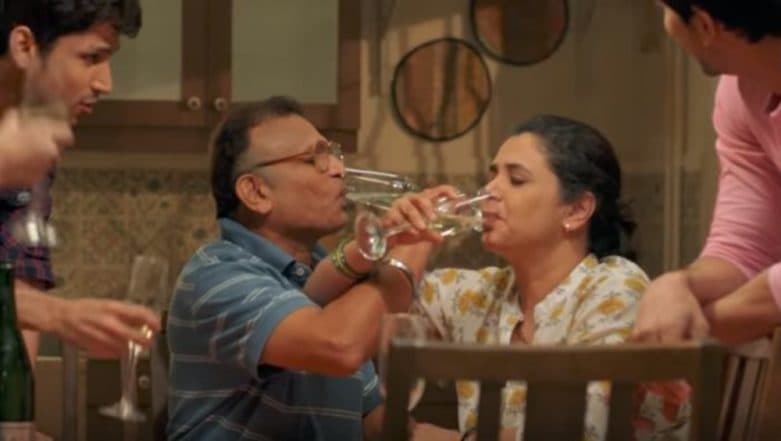 While some believe in the saying 'Home is where the family is', others treasure memories from the place they've grown up in. Remember when a lot of buildings in Mumbai were being ordered to be demolished because they were illegal? There was a lot of outrage over it and you would obviously not really empathise with the residents unless you have personally witnessed their houses being torn apart or them protesting for it. Ekta Kapoor's new ALTBalaji series, Home, gives you a closer look at the families that bore the brunt of the illegal construction. Supriya Pilgaonkar, Annu Kapoor, Parikshit Sahni, Amol Parashar and Chetna Pandey in the lead roles.
It's a very simple story yet so compelling. Supriya and Annu are parents to Amol and Chetna. Parikshit Sahni is Annu's father and pretty much the head of the family. While the series will make you emotional at times, it also manages to make you laugh at certain scenes because you can literally relate to them. The idea of social media for the millennial starts from WhatsApp and ends with Twitter, along with a lot of other platforms. But for our parents, it's all about WhatsApp and Facebook. These tiny little instances make the show so relatable.
I was hoping to write a spoiler free review but I'm way too emotional for that right now. Supriya and Annu's family is like every other family, okay most of them. They fight, they hate each other sometimes but they make a strong team when they are together. You know how sometimes your parents scold you for something you have done some 10 years back? Well, yeah you'll find one of those, too. There is a track in the series where Supriya suspects that she might be suffering from breast cancer. Like every other person, she is terrified of it and like every other kid, both her children are also scared of losing their mother to cancer. But it's Supriya breaking down in the kitchen at night out of fear and her family hugging her to show their support is what makes this scene so powerful.
If you have seen the trailer, it pretty much gives away the ending. Though I am hoping there is a twist in the end and I would recommend you watch the show without watching the trailer at all. The next move after every scene is quite predictable so there is no mystery as such. But it is a story that must be told and must definitely be watched. Supriya and Annu's chemistry was the best part of the series. Not to mention, it has been written beautifully and special appreciation to the director Habib Faisal for such a beautiful execution.
Yay!
- Overall performances
- Supriya Pilgaonkar and Annu Kapoor's chemistry
- The story, writing and editing
Nay!
- The plot is too predictable and there are no surprises
Final Verdict
Like I already said, it's a very simple story but something that must be told. You will literally feel 'at home' when you are watching the series. The actors have done complete justice to the characters and the story. The series will stream on the app 29th August 2018 onward. Watch it and tell us what you think of it in the comments below and stay tuned with us for more.