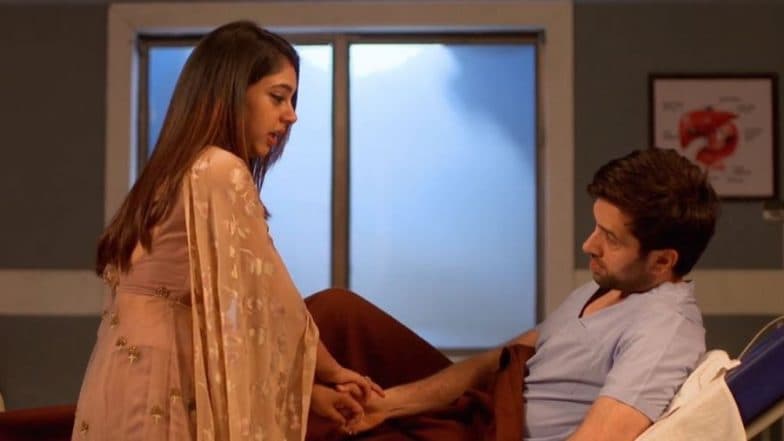 Today's episode of Ishqbaaz starts with SSO (Nakuul Mehta) seeing P.K. and tells that he is his father's murderer, Mannat (Niti Taylor) says it's not true and that her father cannot kill anyone and goes near him. Mannat asks him to tell everyone that he has not done it, but P.K. shouts and says that he has only killed Shivaay. Mannat is in shock hearing this and tells everyone that he has not done it. Mannat pleads to her father, to tell the truth, P.K. does not say anything and sees Sahil and flashbacks what he had said that if he denies that he has killed Shivaay then he will torture Mannat. The police take him into custody. Ishqbaaz March 13, 2019 Written Update Full Episode: While Mannat Refuses to Listen to Varun, Shivaansh Falls for Sahil's Lie and Asks Her to Leave Him
SSO tells Mannat that he was so stupid to believe her and tells her that whatever was there between them is finished and tells her not to show her face to him and goes from there leaving her. In the night when SSO is sleeping he still remembers the same dream about how his father was murdered and wakes up and calls Mannat but suddenly realize that she is not there. Next day, SSO goes to meet P.K. and ask why he did he do it and that someone else was also there with him and ask who was it. P.K. says when he had told that he had killed his father with a pistol then why again he asking the same question. SSO tells that in the report it is written that he has killed his father with a revolver and not a pistol. P.K. says that maybe he forget as he is old now. Ishqbaaz: Watch 7 Much-Loved 'Mansh' Moments before Nakuul Mehta and Niti Taylor's Show Goes off Air
SSO asks Sahil what is the reason behind P.K. killing his father. Sahil tells a fake story and tells that may be because of money he did this. SSO tells if he was poor then how he could he afford to get a revolver which is very costly, Sahil says maybe he had robbed MK3 revolver from someone. SSO is shocked to hear and ask how he came to know the name of the revolver. Sahil says that when this incident happened he enquired everything and that is how he came to know about this all and says he does not want to remember it now.
Sahil is talking to someone and telling that SSO is enquiring a lot and that he should be killed and the work should be done today only. Sahil says today only Shivaay died and if SSO also dies then it will be a celebration. While SSO  and all are ready for the pooja which is to be done in the name of Shivaay and Anika, Mannat comes. Seeing her SSO bursts with anger and asks her how dare she come there. Mannat gives the house keys to PN and says that she has come to give this and that she is going to leave this city forever.
SSO feels upset as Mannat is leaving. While going Mannat leaves a coin for SSO which she had taken for him and tells him that this is his lucky charm.  SSO tells PN that he will bring the flowers for pooja and as he goes out of the house. Someone shoots him and he falls down, hearing the shot Khanna and Abhi run and come out and hold him. SSO thinks about Mannat and that Shivaay is telling him not to let her go as in life people want someone who should be beside's them. SSO wakes up from his dream and asks how he came here. The doctor says that he is fine and that because of the coin which was in his pocket he was saved. SSO asks about Mannat and runs out to search for her. Suddenly he hears the same alarm sound and realises it is from Sahil's watch.
In the precap, SSO hears the alarm sound and Sahil's walking stick sound and comes to the conclusion that Sahil has killed Shivaay.