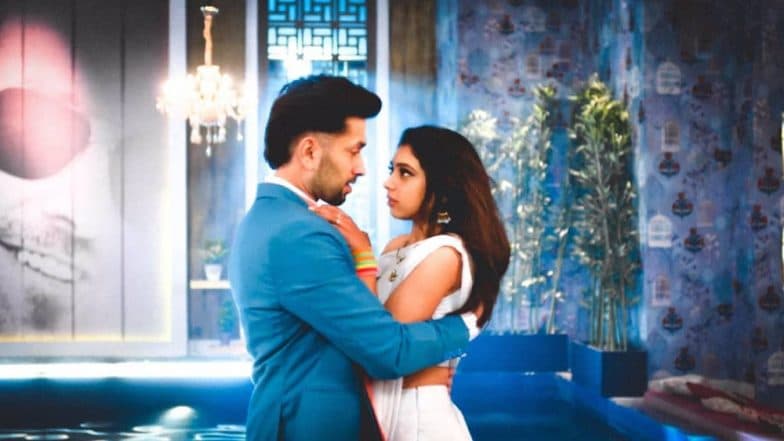 Today's episode of Ishqbaaz starts with SSO (Nakul Mehta) dancing with Alisha an actress, Mannat(Niti Taylor) comes in and sees them and get jealous, SSO introduces Mannat to her. SSO tells that in his new video they are dancing together so they were practising. Mannat gets angry and goes from there. Sahil comes and asks why is Mannat upset. There in the kitchen, Mannat is angry and telling that SSO did not have time to visit the doctor but is dancing with that girl and throws the vegetable here and there and puts lots of chilli powder in the salad. Seeing this Khanna ask her what is she doing and tells that he will take the other salad for SSO. Mannat follows Khanna and again seeing Alisha dancing with SSO gets irritated and tells her that SSO is not well so he has to take some rest and eat his salads. Mannat shouts at SSO and tells that the doctor has told him to rest and makes him sleep in the bed and suddenly falls on him( Janey Jaa Janey Jaa track is played in the background)SSO asks why she is angry today and why she was talking to Alisha like that. Mannat tells him to be away from Alisha type girls.
Sahil comes to SSO and asks whether he saw the property papers which he has given to him and the blueprints of the hotel which they had planned to make in Nainital. SSO tells that he is sorry that he did not have time to see the property paper but he saw the blueprints but says that Mannat was saying that they should make the hotel in Himachal as it is a tourist place. Sahil says good and that he shares business also with Mannat. Sahil says that it is good as she is his wife, SSO tells that he knows the marriage was a fake, Sahil asks if he loves her, SSO says that nothing like that. Sahil says if he does not love her then why is she still living here as his wife. Sahil says in the eyes of the world they both are a couple. Sahil tells that he is a superstar but what about Mannat what will happen to her. Sahil tells SSO to separate from Mannat as she can live her life and marry someone else. Sahil says that he has some best divorce lawyers and that he will make arrangement to meet him. SSO is tensed listening to this.
Sahil is talking to someone and saying that they will have to take the next step now as SSO is fit and fine and smiles. There PN calls Druv and tells to give the invitation to everyone. Khanna comes and asks SSO to choose the colour. Everyone is busy preparing for the guest list. Mannat asks why is all this preparation going on. PN says that after two days Shivaay and Anika's death anniversary is there, all become emotional. PN tells that for this they keep a pooja and call all the workers and give food to them. PN says that she always tells about their family and that Mannat has never told about her family. Mannat tells that there is nothing to tell about and that her mother passed away when she was born and her father had left her and still not come back. PN tells don't worry dear and that we all are there for you and asks what is her father's name. Mannat says her father's name is Pramod Khurana and he used to work in some factory. Sahil is shocked to hear the name. SSO ask if he knew him, Sahil tells that no he does not know him. SSO sees Sahil's Watch and praises it, PN says that she had gifted the same watch to Shivaay. Sahil flashbacks how he stole the watch from Shivaay but tells that Shivaay had gifted him. Mannat feels upset and goes to the kitchen. SSO follows her and asks why is she upset and tells that he can understand and that she can talk to him anytime when she wants and that he is a good listener. Mannat thinks that this is the pain which she cannot share with anyone and that because of her father she had to suffer a lot.
Mannat thinks about SSO and tries to dance and is about to fall when SSO comes and holds her (Janey Jaa jane jaa track is played in the background). SSO teaches Mannat how to dance (tum seh din hota hai tum sey hi track is played in the background)They enjoy dancing with each other. Suddenly SSO remembers, what Sahil had told and tells that this all is wrong and that she is not his wife and they must go for a divorce. Mannat is shocked to hear this. SSO tells that her whole life is ahead of her, Mannat tells she does not want to talk about it. SSO tells why she is doing all this, Mannat says that she is his wife that is why she is doing this and goes from there.
In the night while SSO is sleeping he sees Mannat sleeping and thinks what relation is there between them and that he should let her go but says how can he live without her. Mannat gets up and thinks why she was jealous when he was dancing with another girl as she is not his real wife. There SSO gets a dream and flashbacks how Shivaay was killed by some guy and gets up shouting. Manant consoles him and gives him water. SSO tells that this was the first time he could hear some sound which is still hurting him. Mannat says that she has heard that SSO was with Shivaay when he was, SSO tells when he was murdered.
In the precap, Sahil asks SSO what happen and why is he tensed, he tells about the dream and the gunshots.