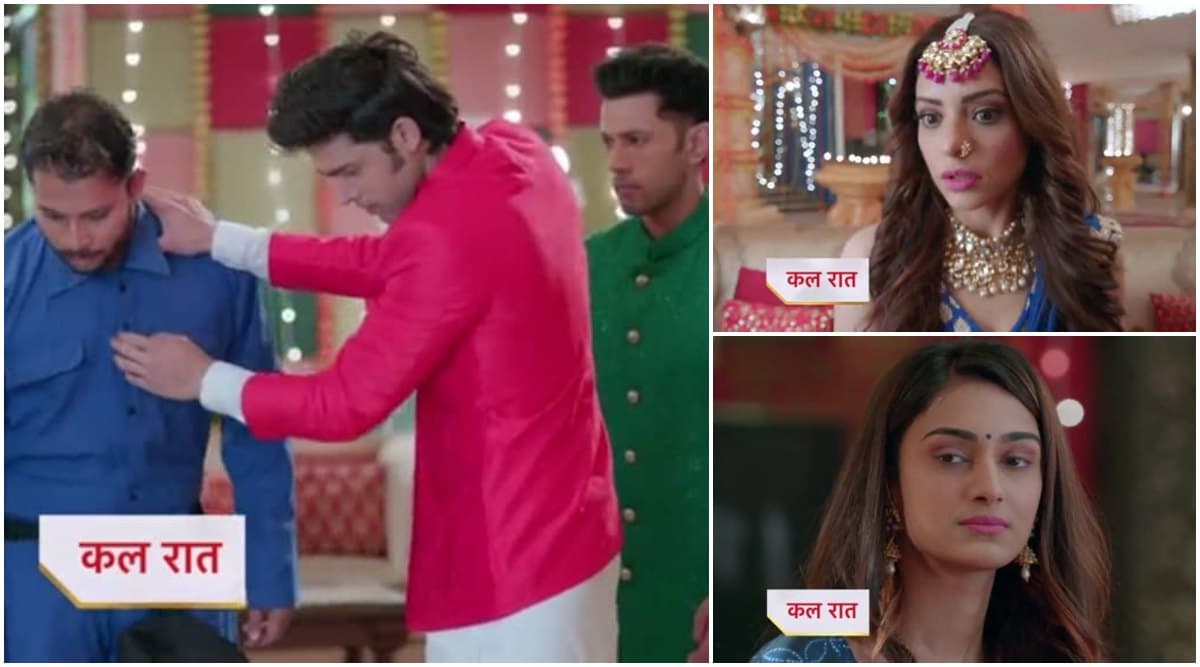 In the last episode of Kasautii Zindagii Kay 2, Anurag invites Prerna for the Tulsi puja, while Komolika challenges her. Mohini shocks everyone by asking Anurag and Sonalika to perform the rituals. In tonight's episode, as Anurag (Parth Samthaan) takes the vermilion in his hand, he trips and falls on Prerna (Erica Fernandes). The vermilion falls from Anurag's hand on Prerna's forehead. Sonalika (Aamna Shariff) gets furious on seeing this. Anurag searches for the mangal sutra, which was in his hand but fails to find it. Just then Anurag sees that Prerna's mangal sutra is broken and fixes it and puts it back on her neck. Everyone stands stunned and as they watch them. Kasautii Zindagii Kay 2 November 27, 2019 Written Update Full Episode: Prerna Reveals Sonalika's Truth to Mohini and Anurag
Prerna is happy as Anurag made her wear the mangal sutra and even put vermilion. Anurag clarifies his actions and says he's a close friend of Prerna. Sonalika asks Anurag to make her wear the mangal sutra. Anurag informs her that he's unable to find it. Mohini gets furious and decides to get a new one and goes inside. An angry Sonalika goes to her room to calm herself down. Sonalika sees an electrician doing his work and yells at him for working in such a risky condition and asks him to be cautious. Just then, Sonalika thinks of a plan to take revenge from Prerna. Sonalika tells the electrician that she will pay him handsomely if he does as instructed. The electrician agrees to be her accomplice. Sonalika shows him Prerna's photo and asks him to hurt Prerna.
Mohini and Moloy get into an argument when Moloy blames Mohini, but she gets defensive and says that Sonalika is their daughter-in-law. Mohini asks Moloy to stop supporting Prerna and think about Anurag's well being. Moloy tells that she should also take care of Prerna as she is pregnant with their son's child. Anurag on the other hand, is confused about his feelings for Prerna. Sonalika asks Nivedita why is Prerna talking to their panditji. She then tells Nivedita that Prerna is trying to steal Anurag from her. Sonalika tells Nivedita to ask Prerna to get her an orange juice and make her realize she is just an employee and not a member of their family. Nivedita goes and tells Prerna to get her a glass of juice. Prerna goes to get the juice. Sonalika thinks no one will suspect her and blame Nivedita. Anurag compliments Prerna's smile. Prerna smiles and goes to get the juice.
The electrician comes and tells Sonalika her work will be done. Prerna goes to the kitchen to make orange juice, while Sonalika watches her. Anurag tells Nivedita that she should not have ordered Prerna to get her juice. Anurag tells that they can reverse this and tell Prerna to make one more glass for herself also. They both go towards the kitchen. Sonalika hides when she sees Anurag and Nivedita there. Anurag tells Prerna that Nivedita wants to help her make the juice. They both make the juice and all of them drink it. Sonalika gets furious on seeing her plan fail. Kasautii Zindagii Kay 2: Mr Bajaj To Be Reintroduced, Will It Be Karan Singh Grover Or Someone Else?
While leaving Prerna recollects how she saw Sonalika pay off the electrician to kill her and ducked it. When Sonalika goes to check why her plan failed, she meets with an accident. Prerna goes back with Anurag and Nivedita to save Sonalika. Anupam calls a doctor to treat Sonalika. Anurag shouts at the house help for being careless, who informs him that the electrician is still at home doing some work.
In the next episode, Anurag gets furious and shouts at the electrician. Sonalika is scared that the electrician will reveal her evil plan to hurt Prerna before the family.