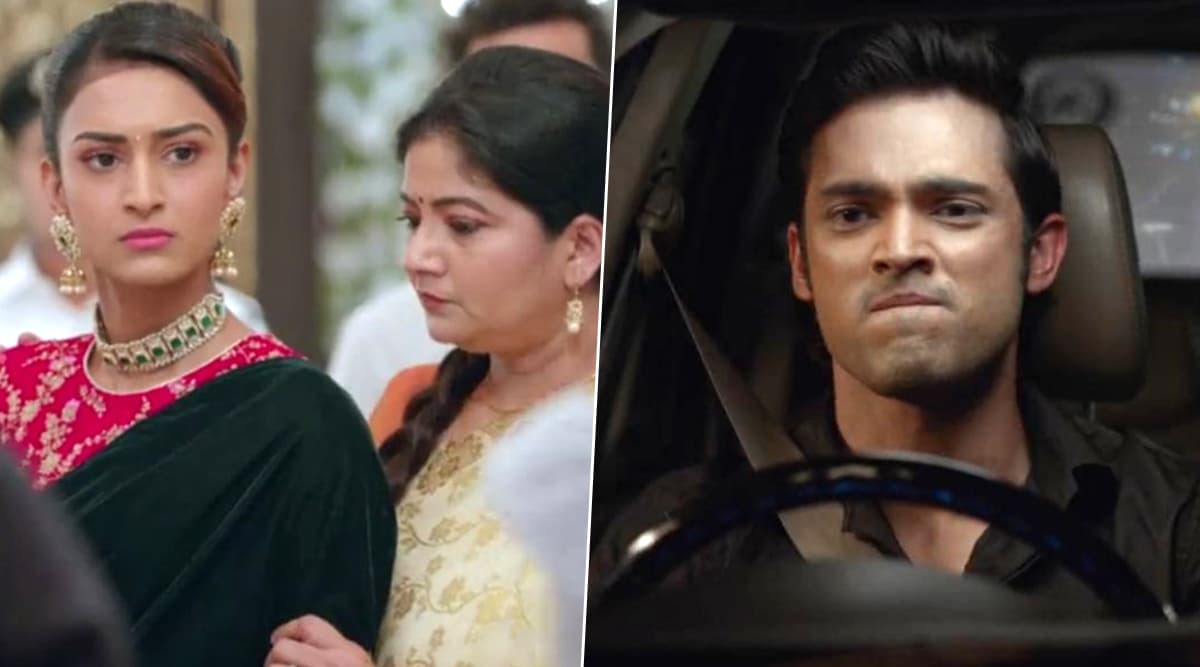 In the last episode of Kasautii Zindagii Kay 2, we saw how Veena gets upset when Mohini talks ill about Prerna and her unborn child. We also saw how Anurag sneaks into the Sharma house to find out about Prerna's mystery husband. Prerna opens up about her true feelings for Anurag. In tonight's episode, we see Prerna (Erica Fernandes) tell Mohini that she was the one who needed her help when Anurag (Parth Samthaan) was in need. Prerna continues by saying that she never thought about herself once before helping Anurag during a crisis. Prerna says she respected Mohini as she loves Anurag. Prerna tells her not to insult her anymore and at least respect her decision.
Veena on the other side sees Mohini shouting at Prerna and goes to stop her. Prerna tells she knows that Mohini does not like her, but warns her about Sonalika (Aamna Sharif). Mohini berates her and tells her she cannot listen to anything against her daughter-in-law. Nivedita also sees this drama and goes to find out what's unfolding. Just then Sonalika informs everyone about the theft and that she cannot find the money in the safe. Sonalika asks Prerna about it. Mohini tells the help to call Anurag and asks him to come home. Sonalika and the family blame Prerna for the theft. Prerna tries to defend herself. Mohini tells that she is also sure that Prerna has stolen the money. Anupam tries to intervene, but Nivedita stops him from stepping in.
Veena gets upset and furious. Prerna asks her to calm down and informs everyone that she is innocent. Mohini tells that she will call the police and lodge a complain. Prerna requests her not to create a scene and assures that they will find the money. But Mohini is not ready to listen to anyone and calls the cops.
Shivani calls Anurag and informs him how the family is accusing Prerna of theft. Anurag asks her to stay calm and assures her that he will be home soon. Anupam tries to defend Prerna, but Mohini and Sonalika ask him to not side with her. Veena and Mohini get into an argument. Nivedita tells Prerna that she checked the safe and that the money is not there. Prerna is shocked to hear this. Sonalika says that Anurag will be really upset if he finds about all this.
Anurag calls Mohini and tells her not to call the police. Mohini tells him that he's not aware of the situation, but Anurag asks her to do as said and wait for his return. Prerna tells Mohini that they suspect her, but her family is innocent and should be allowed to return home. Sonalika accuses that Prerna's family is hand-in-gloves with her in this theft. Prerna gets furious and asks Sonalika to mind her tongue. Sonalika tries to provoke Veena by blaming Prerna and her. Mohini asks Prerna to show some respect to Sonalika, who is the daughter-in-law of the Basu family.
The police arrive at Basu home. Sonalika tells the police to arrest Prerna and her family. Prerna tells them to check once. The police ask Prerna to come with them, but she refuses to claim to be innocent. The police handcuff Prerna, just then Anurag enters the scene. Prerna is happy to see Anurag. In the precap, Anurag tells Sonalika that Prerna is innocent. Sonalika asks the cops to check the Sharma house.