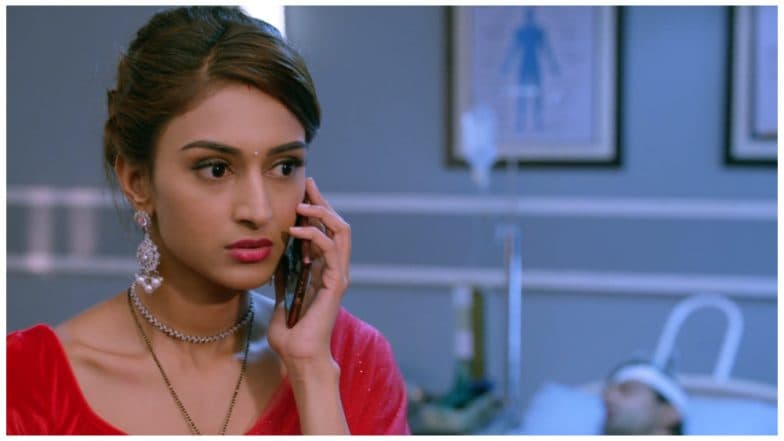 In yesterday's episode of Kasautii Zindagii Kay 2 we saw Mr Bajaj tells Prerna the truth about the accident. Mohini is reduced to tears after seeing Anurag's condition while Sharda plans her next move. Tonight's episode starts with Bajaj (Karan Singh Grover) tells Prerna (Erica Fernandes) that he will inform Mohini about the accident, Prerna says she will also come, just then Shivani calls Prerna and tells her when Anurag (Parth Samthaan) was lying injured, he was taking her name, Prerna gets emotional and cries. Shivani tells that the doctor has told to call the person whom he loves the most so that he responds and requests her to come as soon as possible to the hospital. Kasautii Zindagii Kay 2: Here's What Hina Khan Had To Say When Quizzed About Returning As Komolika!
Back in the hospital, Mohini tries to talk with Anurag so that he responds, the nurse comes and tells them to go out as the doctor wants to examine Anurag. Suddenly the machine beeps, the nurse runs outside to call the doctor. Mohini and Nivedita get disturbed when they see Anurag in this condition and get emotional. Later, Mohini goes to the temple to pray for Anurag and tells Lord Ganesha that she will not have water or food till Anurag becomes well. Nivedita watches her and gets disturbed and holds Mohini and takes her. Seeing Shivani Nivedita asks who did Anurag's accident. Shivani reveals that Mr Bajaj did it. They get shocked. Kasautii Zindagii Kay 2 September 12, 2019 Preview: Shivani Informs Mohini About Mr Bajaj's Involvement In Anurag's Accident!
In the Basu household, Mr Bajaj tells Sharda he has some work and as he leaves with Prerna, Sharda acts as if she is in a lot of pain. Prerna asks her to sit and have water. Tanvi says mom was feeling uneasy since morning, is it a heart attack. Sharda asks them to take her to the bedroom. Mr Bajaj asks the driver to get the car, they will take her to the hospital. He takes her to the hospital. He asks Prerna to go to Anurag, he will get Sharda's checkup done. Sharda tries to spoil Bajaj's mind and says Prerna and Anurag know each other well. He says nothing is valuable than a person's life, Prerna knows to keep relations, she knows she is Mrs Bajaj.
Meanwhile, when Prerna comes running, Mohini tells her to stop and asks how dare she came here to meet Anurag. Prerna requests her to let her meet and tells that she will not leave without meeting him. Prerna says she is asking for the right which they never shared. Mohini asks the name of the relation. Prerna says there is no name, but they share a relation, you name it, we care about each other, we can sacrifice our lives for each other, out bond goes beyond love, and that she does not want anything, she just want Anurag to survive, and requests to let her go to him.
Mohini says not today and stops her, holding her hand. Prerna says for Anurag's sake. Mohini leaves her and cries. Prerna comes to Anurag and holds his hand and tells him that she has come and requests him to open his eyes Anurag moves his fingers. The Doctor sees him and tells Prerna to go outside as he wants to examine him, it is probably good news. Prerna comes out and says the doctor said its good news. Parth Samthaan Is Dying to Meet His Dream Girl 'Pooja' for a Date, But She's Blowing the Kasautii Zindagii Kay 2 Star Off! (Watch Video)
Mohini pushes her away and shouts her to get out. Mr Bajaj comes and holds her and tells that they should leave. In the precap, Mohini tells the police that Bajaj tried to kill Anurag and that they have an eye witness, Shivani. Meanwhile, the Doctor tells Prerna that Anurag has to regain consciousness, if he doesn't get up within 6 hours, then he may never gain senses. Stay tuned!