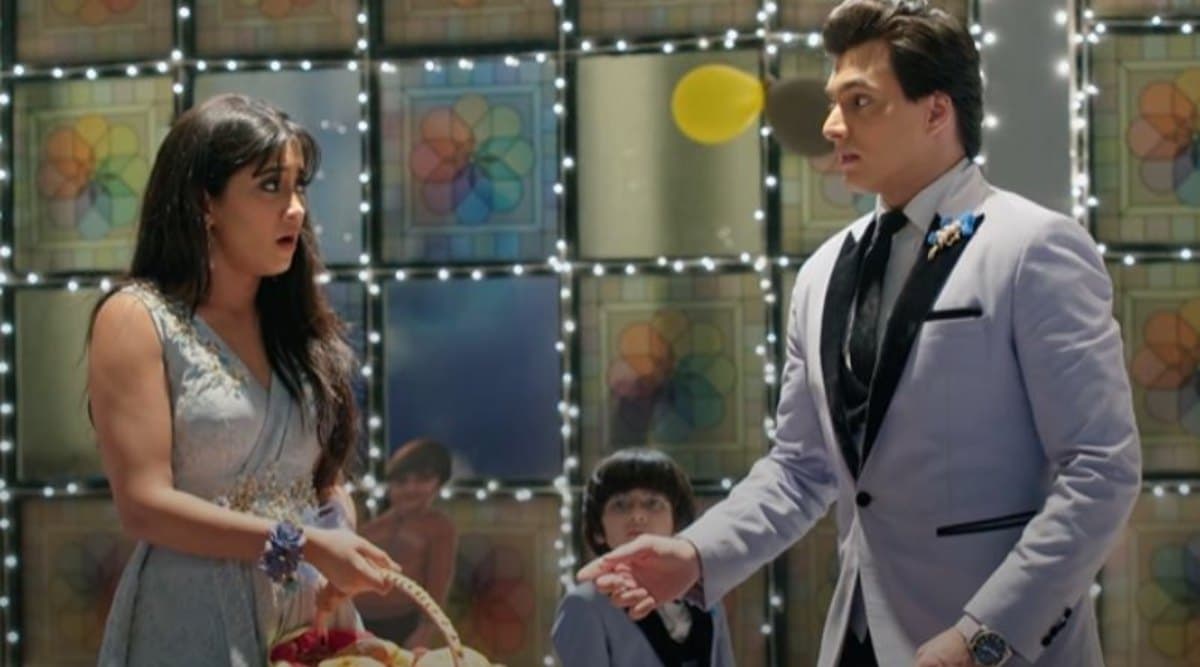 In the last episode of Yeh Rishta Kya Kehlata, Hai we saw a shattered Kartik blames himself after Kairav meets with a grave accident. Later, he makes a shocking decision while the family discusses the sombre events. Tonight's episode starts with Naira (Shivangi Joshi) opening the door and sees Suhasini there and is shocked. Naira asks why she has come here so early in the morning and tells that Kairav is fine now and invites her in but Suhasini tells she wants to talk with her before meeting Kairav. Suhasini tells Naira to come to the Goenka house with Kairav and tells Naira to act as a lovable couple with Kartik till Kairav's misunderstanding goes, Naira disagrees with her. Yeh Rishta Kya Kehlata Hai November 1, 2019 Written Update Full Episode: Kartik Thanks Naira for the Gift, While Kairav Misbehaves and Throws a Tantrum.
On the other side, Kairav gets up, Naksh comes and wishes him. Kairav tells Naksh to book Goa tickets for him and Naira. Meanwhile, Kartik (Mohsin Khan) sees the birthday video and gets disturbed and feels how could he not see the pain in Kairav's face and things he does not have the right to be called a father and he does not deserve anything. Manish and Swarna watch him in pain and get disturbed. Yeh Rishta Kya Kehlata Hai October 31, 2019 Written Update Full Episode: Kartik Receives a Special Gift From Naira, Guests Make Some Awkward Comments About Them.
Later in the Singhania house, Naksh tells Naira that Kairav wants to go back to Goa as he feels that if she is away from Kartik then she will be happy. Meanwhile, Devyani and Kaveri come and asks why Suhasini had come, she tells what all Suhasini told. Naksh asks her what she wants to do now.
On the other side, Gayu tells Swarna that bringing Kairav and Naira home is not a good idea as later when he comes to know about Kartik and Naira's divorce he will get more disturbed. Just then Suhasini comes and chides her as she should shut her mouth and not involve in this matter. Later, Kartik comes and asks Suhasini why she went to meet Naira.
Meanwhile, Naira reminisces what all happened and becomes tensed as she is unable to decide what to do. Just then Kartik calls him, Naira tells him that Kairav wants to go back to Goa and Suhasini wants her to come to the Goenka's. Kartik tells her to go back to Goa with Kairav and tells her to just think about Kairav and no one else. Kartik thinks about his childhood and what all he went to as a kid and says he knows how it feels to be in pain when the kid does not like his father, Naira says that maybe this time it will be different and she will not take Kairav anywhere and sort the problems between them and they both will meet together. Both get emotional and cry.
In the precap, Naira tells Kairav that they are going back to Goa. On the other side, Kartik comes to meet them.