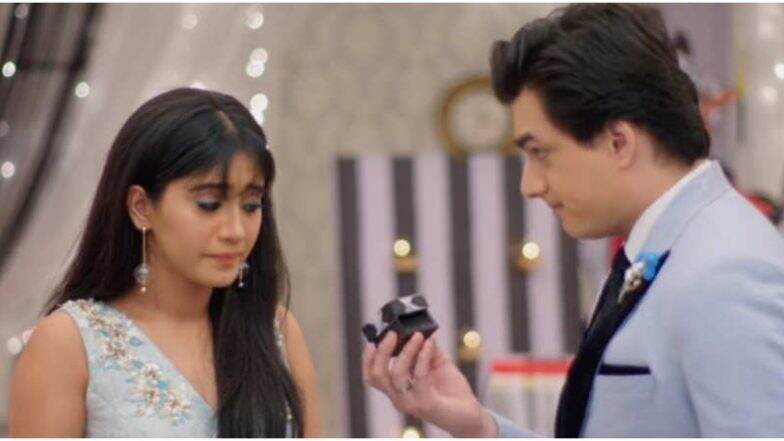 In yesterday's episode of Yeh Rishta Kya Kehlata Hai, we saw Kartik receive a special gift from Naira. Later, some guests make awkward comments about them while Kairav is shocked by a magician's thrilling performance. Tonight's episode starts with Kartik (Mohsin Khan) opens the gift which Naira (Shivangi Joshi) has brought and is happy to see his and Kairav's photo album and thanks to her. Pallavi sees them together and thinks that in Vedika's absence Naira is taking advantage. Yeh Rishta Kya Kehlata Hai October 31, 2019, Written Update Full Episode: Kartik Receives a Special Gift From Naira, Guests Make Some Awkward Comments About Them.
On the other side, Vansh tells the secret of Kairav to Manish that Kairav does not want to cut the cake. Manish laughs and says he is joking and later he will cut the cake and leaves. Vansh thinks no one is understanding his problem. Later, Naira is happy that Kartik liked her gift and she still understands him as earlier. Just then Surekha comes from out who looks tensed, Naira asks what is wrong but she tries to change the topic and behaves normally. Kartik comes and tells Naira to come for the cake cutting. All the kids are happy, Kartik calls out to Kairav for the cake cutting. Later, Kartik tells Manish and all that Kairav is looking very angry and something is in his mind and tells them to find out as he is feeling tensed for him.
Meanwhile, Naira brings the cake, Vansh tells Kairav that he should cut the cake and not create a scene but Kairav says he will not. Naira tells Kairav to cut the cake with Kartik. Later when all see the photo in the cake, Kartik tells this is the first photo which he took with Kairav and tells all of them how they met and what all happened. Kartik says that it was the most precious moment of his life and that he loves Kairav the most and hugs him tightly, all get emotional.
Later when Kartik tells Kairav to cut the cake with him he shouts and tells him he does not want to cut the cake and destroys the cake with his hand. Kartik gets disturbed and asks did anyone told anything to him, Kairav says he does not want to cut the cake with Kartik and as he hates him. Naira tries to console him but he says he does not like Kartik as he always chides at her and that is why he does not like him, all are shocked to listen to his talk. Later Kairav tells that Kartik does not love them that is why he is always far from them and does not live with them, Naira orders Kairav to shut up and behave, Kairav runs from there and goes out in the road, Naira, and Kartik follow him. Just then a truck comes in the same direction where Kairav is, he panics and faints.
 In the precap, Kartik gets emotional as because of him this all happened, Naira hugs him and consoles him.