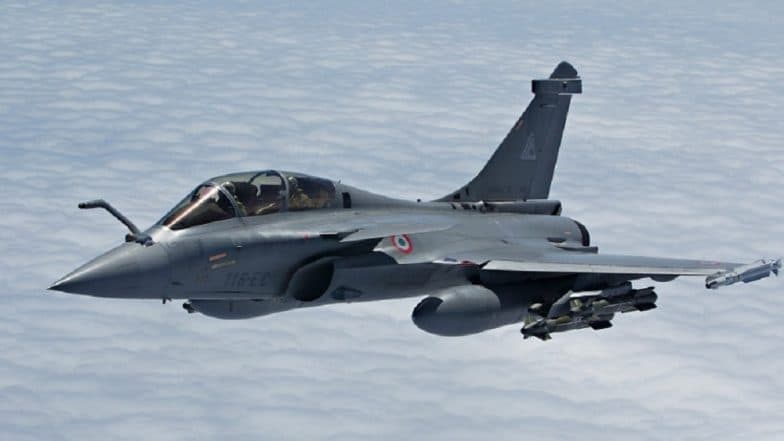 Bengaluru, February 13: With the controversy over the pricing and acquisition of Rafale fighter jets from France by the Bharatiya Janata Party still making a point of discussion of political debate, three Rafale jets arrived in Bengaluru on Wednesday to participate in the Aero India show. As per the reports, three Rafale jets will participate in the Aero India show in Bengaluru between February 20-24. Two of the fighters will be used for flying exercises and the third for static display, reports said.
According to the initial reports, the Rafale fighter jets belong to the French Air Force and have directly arrived in touched down at the Yelahanka Air Force Station from France. Notably, for the first time, all these fighter jets will be flown by ace Indian Air Force fighter pilots during the 12th edition of Asia's premier air show in Bengaluru, and one of the pilots would be Deputy Chief Air Chief Marshal Vivek Choudhari. Altogether 57 fighter aircraft from different countries would fly during the air show in Bengaluru. Arun Jaitley Quips 'Satyameva Jayate' After CAG Report on Rafale Tabled in Rajya Sabha, Says Lies of 'Mahajhootbandhan' Stand Exposed. 
#WATCH Two Rafale fighter planes (total 3) of the French Air Force land in Bengaluru for the Aero India show. Top IAF officers including IAF Deputy Chief Air Marshal Vivek Chaudhari to fly the plane during Aero India show. pic.twitter.com/i4e42pQKVI

— ANI (@ANI) February 13, 2019
It is to be known that the acquisition of 36 Rafale fighter jets by the Union government was marred by the controversy after the Congress president Rahul accused Prime Minister Narendra Modi-led government of corruption charges. Gandhi had alleged of the discrepancies involved in Rs 59,000 crore deal in which the price for each fighter jet was raised to Rs 1,600 crore from Rs 500 crore. The BJP quashed the allegations, however, the matter is still being debated in the political arena.