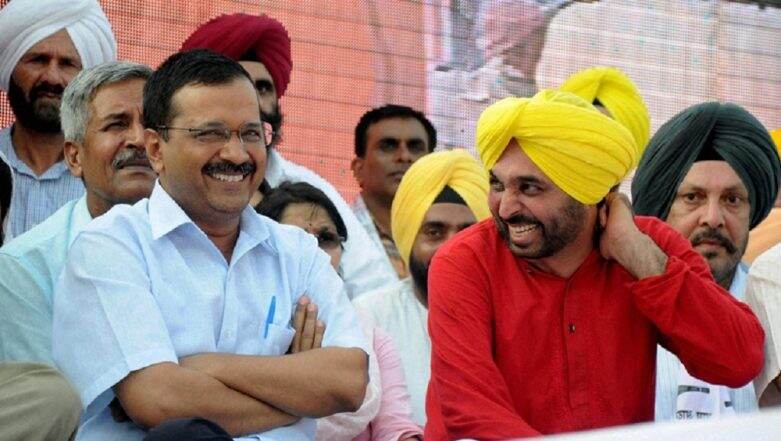 Barnala, January 20: Sangrur Member of Parliament (MP) Bhagwant Mann on Sunday at the Aam Aadmi Party's (AAP) rally in Barnala said that he has left taking liquor on his mother's advice. For this move, AAP chief and Delhi Chief Minister Arvind Kejriwal has praised him. Dirty People Have Left AAP, Party Is United and As Strong As Ever, Says Delhi CM Arvind Kejriwal.
"My political opponents often level accusations against me, saying 'Bhagwant Mann takes liquor and remains intoxicated day and night'. Brothers, it always pained me when I saw old videos of myself on social media where I was being defamed," Mann said, at a rally in Punjab's Barnala, reported PTI. Arvind Kejriwal: Delhi People Consider Their CM Honest, Can Same be Said for PM Narendra Modi?
Addressing the crowd, Kejriwal lauded Mann for leaving alcohol. "Friends, Bhagwant Mann has won my heart. Not only mine, but he also won the hearts of whole Punjab. A leader should be like him who is ready to make any kind of sacrifice for the people. It is not a small thing to make such a big commitment. After January 1, he says he will not touch liquor. It is a very big thing," said Kejriwal.
This Step was even praised by Delhi Deputy CM Manish Sisodia. "बरनाला रैली में Bhagwant Mann का एलान - 1 जनवरी से उन्होंने संकल्प लिया है कि वे अब शराब को हाथ नहीं लगाएंगे, उन्होंने मंच पर अपनी माताजी और पंजाब की जनता के सामने वादा किया कि अपना तन मन धन पंजाब की सेवा के लिए लगाएंगे। (At Barnala rally, Bhagwant Mann's announced that he has determined not to touch liquor ever. From the stage, he made the promise to his mother and the people of Punjab that he would apply his body, soul, and mind in the service of Punjab)," Sisodia in his twitter handle.
बरनाला रैली में @BhagwantMann का एलान - 1 जनवरी से उन्होंने संकल्प लिया है कि वे अब शराब को हाथ नहीं लगाएंगे, उन्होंने मंच पर अपनी माताजी और पंजाब की जनता के सामने वादा किया कि अपना तन मन धन पंजाब की सेवा के लिए लगाएंगे। pic.twitter.com/camx8Ac3Mb

— Manish Sisodia (@msisodia) January 20, 2019
Meanwhile, AAP announced that former Union Minister Harmohan Dhawan will be contesting from Chandigarh constituency for the upcoming 2019 general elections. Kejriwal also confirmed that AAP will be all the 13 Lok Sabha seats in Punjab.
(With PTI Inputs)