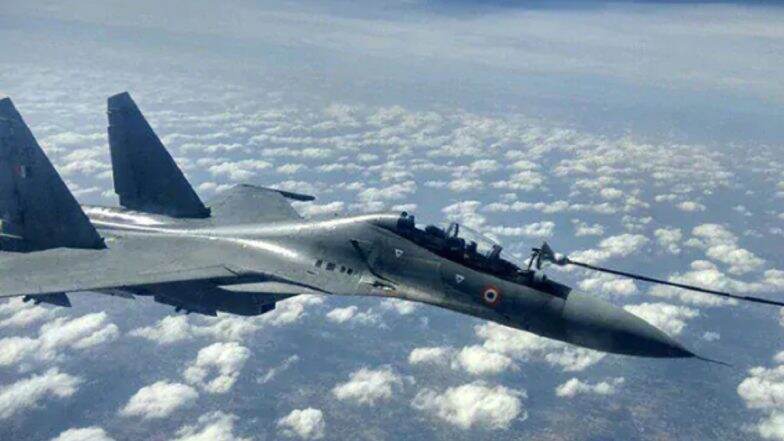 New Delhi, October 8: On 87th Air Force Day, the Indian Air Force exposed Pakistan's false claim as it flew the same Sukhoi-30MKI fighter jet which Islamabad said it had downed in the post-Balakot aerial dogfight. The IAF, which displayed an air formation in the clear skies above Hindon Air Force Station on Tuesday, flew two Sukhoi jets along with three French Mirage-200s in a formation which is known as "Avenger". Air Force Day 2019: Facts to Know About the IAF on Its 87th Founding Day.
One out of the two Sukhoi jets, which was flowing on the extreme right, had a call sign of "Avenger 1". This was the same jet which had countered the aerial challenge by Pakistan in the dogfight on February 27, a day after the Indian Air Force had carried out a cross-border raid at the terror camp in Balakot.
Further embarrassing Pakistan, the IAF tasked the same two-men squadron to fly the Sukhoi jet who had participated in the aerial dogfight against Pakistan.
Watch IAF AIr Warriors' Breathtaking Acts on 87th Air Force Day:
"We acknowledge the contributions of all personnel of Commands, Stations and Units who silently and professionally contributed to the success of the air strikes on the terrorist camps at Balakot earlier this year," Air Chief Marshal RKS Bhadauria said.
Bhadauria further added that India's response to cross-border terror attacks emanating from Pakistan was changed after Balakot. The nation can now resort to pre-emptive raids, including surgical strikes and air bombing of terror bases, in response to terrorist assaults.
Notably, the Balakot strike was carried out by the IAF on February 26, 12 days after a Jaish-e-Mohammed militant rammed a car full of explosives into a CRPF convoy. In the insurgent strike, 43 security personnel were martyred.