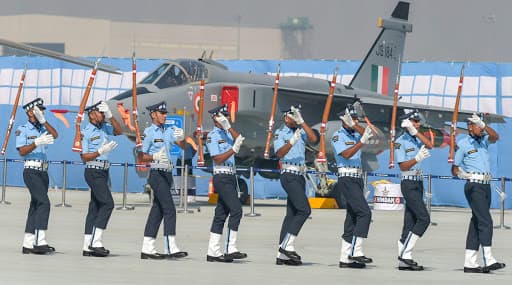 India will celebrate its 87th Air Force Day on October 8. The Indian Air Force was established on October 8, 1932, by the British Empire. Currently, the IAF is the fourth most powerful air force in the world behind the United States, Russia and China. The President of India holds the rank of Supreme Commander of the IAF. Indian Air Force to Deploy Latest American Weapon Systems for Ex-HimVijay Along China Border.
The four-star officer with the rank of Air Chief Marshal leads the force, while Marshal of the Indian Air Force (MIAF) rank is an honorary five-star rank conferred by President of India for exceptional service during a war. Air Chief Marshal RK Bhadauria is the Chief of Air Staff. Indian Air Force to Receive Balakot Air Strike-Fame Spice-2000 Bomb From Israel by September.
Here are Some of the Facts About The IAF:
Air Marshal Subroto Mukherjee was the first Chief of Air Staff of the IAF.

Flying Officer Nirmal Jit Singh Sekhon was the first and only Indian Air Force officer to have received the Param Veer Chakra posthumously for his bravery in the 1971 India-Pakistan war.

Padmavathy Bandopadhyay is the first Air Marshal of the Indian Air Force and the second woman in the Indian armed forces who was promoted to three-star rank, after Indian Army's Lieutenant General Punita Arora.

The IAF has played a significant role in the wars and conflicts fought by India, starting from the World War – II till the Kargil War. However, during the 1962 war against China, military planners did not make use of the IAF to suppress the Chinese aggression.

Other Major operations undertaken by the IAF include Operation Vijay, Operation Meghdoot, Operation Cactus and Operation Poomalai.

Currently, there are close to two lakh personnel serving in the IAF.

According to Flight International, there to be around 1,721 aircraft including Su-30MKI, Jaguars, Mirage-2000, Apache and Chinook in service with the IAF.
Air Force Day is celebrated at every command headquarters. This year also the Air Force Day celebrations will be held with a spectacular air show at the Hindon Air Force Station in Ghaziabad. The IAF will showcase its newest acquisitions - the Apache and the Chinook helicopters - on the occasion of Air Force Day. Other fighter jets, including, Sukhoi Su MKI will also exhibit its capability during the event. India will also take delivery of most awaited Rafale fighter jet.