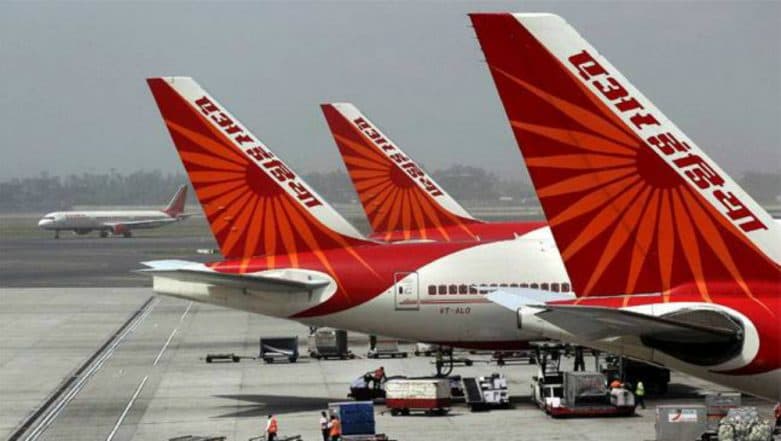 Mumbai, January 2: Air India pilots rejected the airline's decision to revise their salaries to bring them on par with pilots operating other aircraft pilots. The revised salary structure would slash the salaries of wide-body aircraft pilots by 25 percent. Meanwhile, a notice has been sent to Air India by the Indian Pilot Guild (IPG), which represents pilots operating the wide-body Boeing fleet, reported Hindustan Times. The labour commissioner is likely to call both the sides for finding out a solution. Air India Pilots Threaten To Stop Operations If Flying Dues Not Paid.
In 2012, a government panel recommended a revised pay structure for all airline pilots. However, the Bombay high court asked the airline management to maintain the status quo. Meanwhile, in June 2016, Air India's narrow-body pilot guild, Indian Commercial Pilots Association (ICPA), agreed to accept the proposed revised wages but the IPG refused to accept the demand. As per the IPG, the revised salary would cut the salary of its pilots by 25 percent.
Meanwhile, the salaries of narrow-body aircraft pilots were paid as per the 2016 agreement, but the wide-body pilots are receiving old salary. According to the report, in 2017, the IPG agreed to the revised structure which was ultimately rejected by the ministry of civil aviation in November 2018.
Earlier in November last year, Debt-ridden Air India revived its plans to raise Rs 500 crore in short-term loans (STLs) besides mopping up another Rs 6,100 crore by way of sale and lease back of seven of its wide-body planes, including six Boeing 787 (Dreamliner) aircraft.