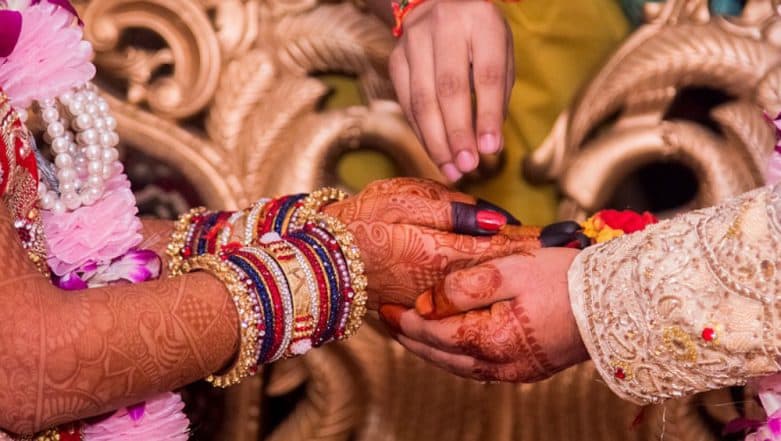 Patna, March 11: In a bizarre incident, a bride in Bihar cancelled her wedding after the groom came drunk at the wedding venue. According to reports, the girl in Dumri Chapiya village called-off her wedding after her fiance allegedly turned up in an inebriated state for the marriage. The bride, identified as Rinki Kumari was to marry Bablu Kumar on Saturday but, after the incident, she decided not to marry him. Uttarakhand Groom Walks 6 Km in Heavy Snow to Complete Wedding Rituals in Rudraprayag.
According to a report by IANS, Tribhuvan Shah, the bride's father informed that the groom was so drunk that he did not know what was going around him. "The groom was so drunk that he was unaware of his surroundings. He misbehaved on the stage, so my daughter refused to marry him", the girl's father said.
According to a relative at the wedding, the groom was unable to stand properly as he was he was badly drunk. Reports inform that, the man could not even perform the rituals correctly, as a result, the bride left the wedding venue. Soon after the incident, both the families tried to convince Kumari for the marriage but she refused to get hitched with the man. The reports inform that the villagers did not let the man and his relatives leave the venue until the time he returned all the dowry he had take from the bride's family.Lucknow Groom's Head Tonsured After He Refuses to Marry Bride And Demands Dowry.
Despite a ban on sale, consumption and storage of liquor in Bihar since April 5, 2016, the policeman was found to have indulged in the crime. In January this year, a wedding in Bihar was called off by the bride after saw that her fiance came drunk at the wedding venue and indulged in an argument with the guests in an inebriated condition. Reports inform that the accused was a Bihar cop and had arrived drunk at the venue in a village in Bhagalpur area.