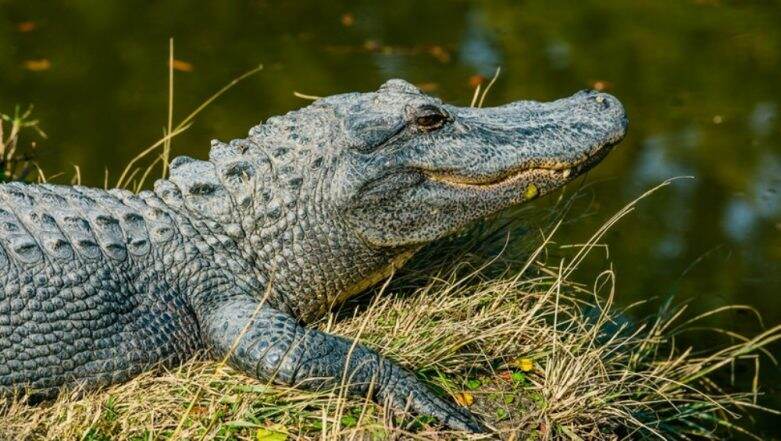 Vadodara, July 3: A team of Forest Department officials on Wednesday rescued a crocodile from Gujarat's Vadodara. The reptile, six-feet long, was rescued from Waghodia village, some 7.5 km away from Vadodara. The crocodile was found in the Narmada canal which caused a panic among the villagers. Soon after, the forest officials reached the spot and rescued the reptile. Crocodile in Gujarat Temple! 6-Foot Reptile Strays Into Khodiyar Mata Mandir, Villagers Call it Miracle and Offer Prayers (Watch Video).
In a clip shared by TV9 Gujarati, Forest officials can be seen capturing the creature. According to reports, it was initially challenging to control the reptile due to muddy conditions and crowd surrounding. The crocodile was transported to an animal care centre in a motorbike for a medical examination. Later, it will be released to a natural habitat. Mumbai Rains Bring Along 9-Feet Long Python in Thane! Snake Rescued From Sewer Amid Heavy Downpour (Watch Viral Video).
Watch Video:
On June 24, a crocodile that strayed into a Khodiyar Mata Temple in Mahisagar district was rescued even as the villagers delayed the forest officials operation by claiming that the reptile's presence is an auspicious one. Khodiyar Mata, a deity of Gujarat's Patel community, is often depicted riding on a crocodile.
Meanwhile, sighting crocodiles and snakes are normal during the monsoon in India. During the showers, these creatures pop up at the most unlikely places like rail tracks, roads, and parks. In a recent, a massive python was rescued by snake catchers in Maharashtra's Thane district. The python was spotted stuck in a sewer nullah wall with his half body stuck in the gaps. The snake was later released to a natural habitat.