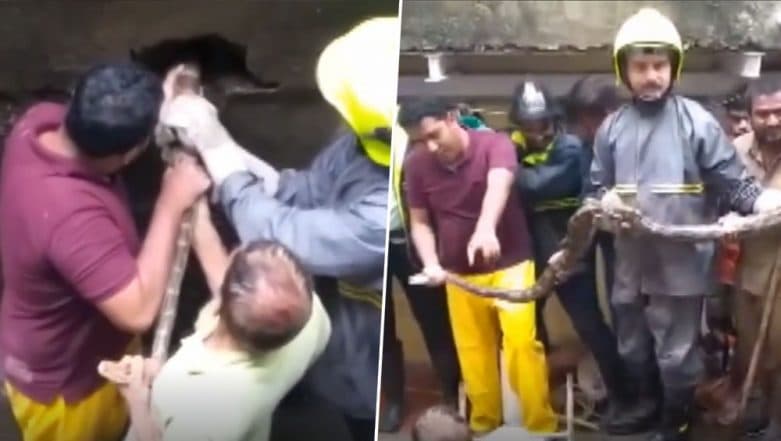 Mumbai is facing severe rainfall from the past week, which has brought the city into a standstill. Many flights were cancelled and roads in several parts of Mumbai has witnessed massive flood. Amid the heavy downpour, a huge python has been rescued by snake catchers and localities in Thane district of Maharashtra. The video surfaced online shows the estimated nine-foot length reptile, stuck in a sewer nullah wall. Only the middle portion of its body can be seen, while his head and tail was trapped in the gaps. Snakes Are Friends! Indonesian Toddler Cuddling Pet Pythons While Watching Cartoons Will Send Chills Down Your Spine. 
The local residents reportedly claim the Python to have washed away from the National Park mountain, situated in the nearby area, entered a local house under construction and later got stuck in the drain pipe. The rescue operation of the reptile was carried by the Forest Department, a few snake catchers and local administration. After the successful rescue, the authorities along with localities, posed for a group photograph, holding the nine-feet-long python. Python Rescued From BKC in Mumbai, Views Pics.
Watch the Viral Video of 9-Feet Long Python
Continuous heavy rainfall on Monday and Tuesday severely affected Mumbai and its suburbs as well as towns in adjoining Raigad, Thane, Kalyan and Palghar districts of Maharashtra. At least, 21 people died in a wall collapse in Malad, 14 others lost their lives in rain-related incidents in the state. Much heavier rainfall is speculated to occur from July 3 to July 5, 2019.