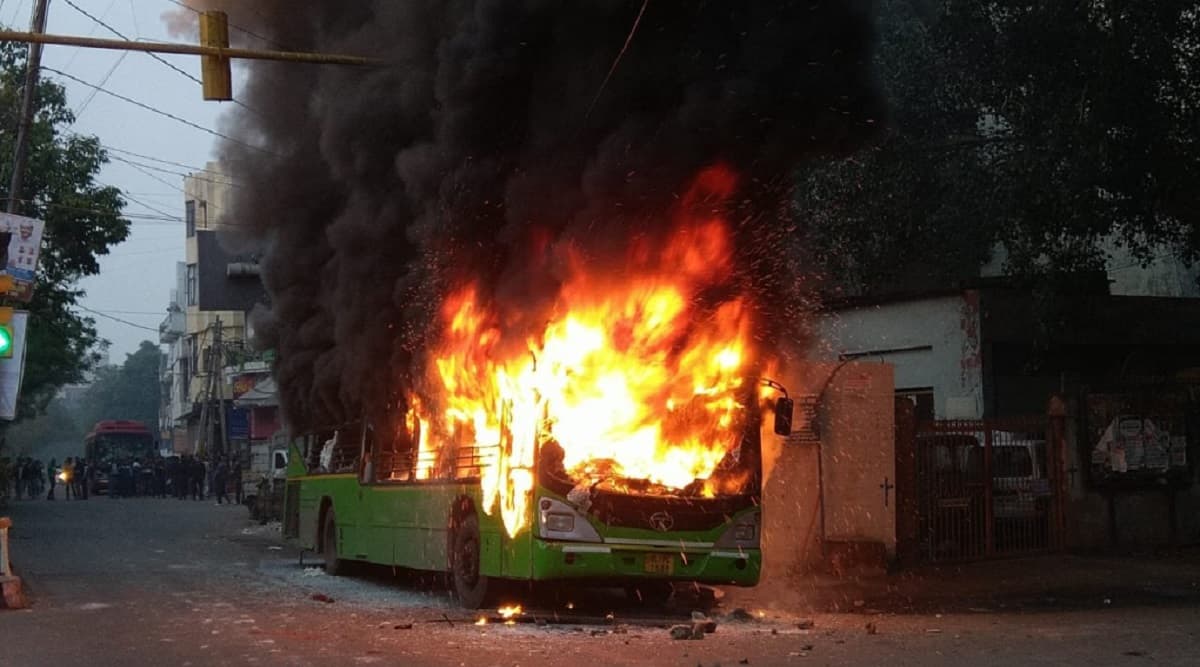 New Delhi, December 15: The protests called in the national capital on Sunday against the Citizenship Amendment Act (CAA) turned violent, with a section among the demonstrators setting three buses on fire, along with a few two-wheelers. The students of Jamia Millia Islamia was blamed for the violence, as the agitation call was issued by the varsity students. Citizenship Act Protests in Assam: Two More Protesters Succumb to Bullet Injuries, Death Toll Jumps to Five.
The University, however, denied involvement of its students in the violence which ensued during the protests. Jamia Vice Chancellor Najma Akhtar told reporters the students were not involved in the arson. According to the statement issued by Jamia students' body, anti-social elements infiltrated into the protest march and resorted to vandalism and violence.
One of the bus drivers, whose vehicle was vandalised by the miscreants, claimed that the protesters not only set a couple of buses on fire but also damaged over a dozen of public and private buses.
Update by ANI
Delhi: Delhi Transport Corporation (DTC) buses set ablaze by protesters near Bharat Nagar over #CitizenshipAmendmentAct. One fire tender was rushed to the spot. Two firemen also injured. More details awaited. pic.twitter.com/j6vH9tG8O4

— ANI (@ANI) December 15, 2019
The fire brigade department had rushed fire tenders to the site in South Delhi where the violent protests were reported. Reports claimed that the fire brigade personnel were also attacked by the infuriated mob. At least two firefighters were injured in the violence.
The Delhi Police has deployed the riot control squad to disperse the protesters. Tear gas shells were also fired, as the police conducted a march till the Jamia Millia gates to confine the protesters inside the varsity.
"Strict action should be taken against elements who are attempting to create instability in Delhi. There are elements who want to mislead some people and stoke fear and anxiety among them. I appeal everyone to keep faith in our Prime Minister and Home Minister," said BJP lawmaker Ramesh Bidhuri.