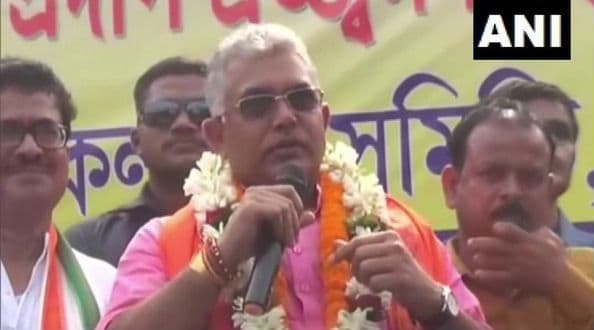 Burdwan, November 5: West Bengal BJP unit president Dilip Ghosh courted controversy when he attacked "few intellectuals" for having beef on roads and asked them to consume 'dog meat' at their homes. "Few intellectuals eat beef on roads. I tell them to eat dog meat too. Their health will be fine whichever animal they eat, but why on roads? Eat at your home," he said at an event here on Monday.
He said that cow is "our mother" and threatened of action against those who "misbehave" with them."Cow is our mother. We stay alive by consuming cow milk. So, if anyone misbehaves with my mother, I will treat them the way they should be treated. On the holy soil of India, killing cows and consuming beef is a crime," he said. Dilip Ghosh, West Bengal BJP Chief, Attacked Along With Several Party Workers by Group of People at Lake Town.
Watch: Dilip Ghosh Attacks Intellectuals Who Eat Beef, Asks Them to Eat Dog Meat Too.
West Bengal BJP president Dilip Ghosh has once again landed in controversy for attacking a section of intelligentsia for 'eating beef at road side stalls' and 'taking pride in cleaning excreta of foreign pet dogs'. #bjp @DilipGhoshBJP @narendramodi @RahulGandhi pic.twitter.com/iscXWENjuq

— Snehlata (@Snehlat04125923) November 5, 2019
This is not the first time that Ghosh made controversial remarks on various issues.In September, Ghosh had claimed that "bribe" worth Rs 2 lakh was being offered to prove people were committing suicides in West Bengal due to National Register of Citizens (NRC). Dilip Ghosh Booked for Threatening TMC Leaders in Kolkata.
Dilip Ghosh, BJP West Bengal President: Indian breed of cows has a special characteristic, there is gold mixed in its milk, & that is why colour of their milk is slightly yellow. Cow's navel helps in producing gold with help of sunshine. (4.11.19) pic.twitter.com/XoHUwfowBS

— ANI (@ANI) November 5, 2019
Earlier this year, the West Bengal BJP chief was booked for reportedly asking his party workers to beat up their TMC counterparts and police. He made the purported comment in connection to the recent clashes between TMC and BJP party workers in the state.