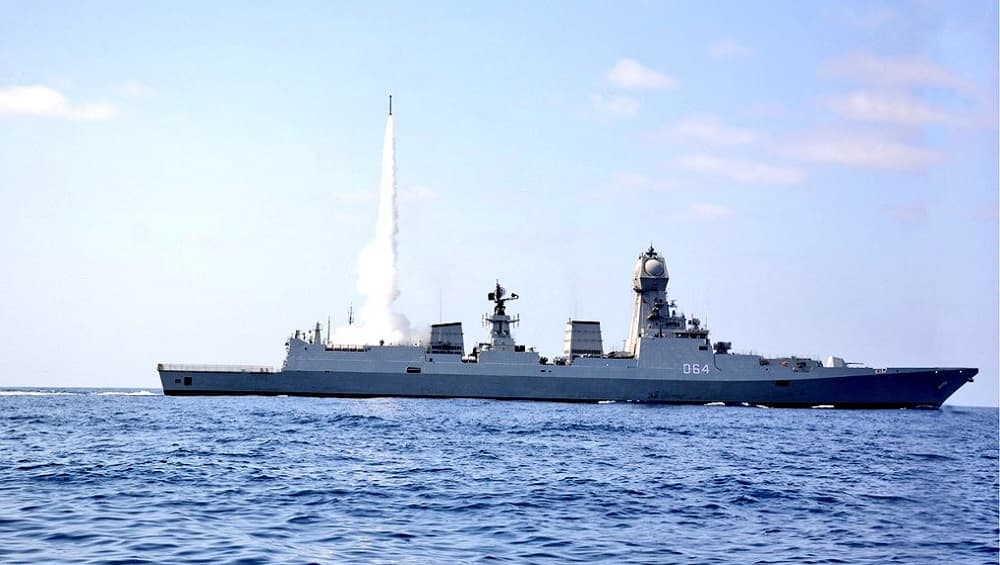 New Delhi, January 8: The Indian Navy has been kept on standby for emergency evacuation of Indians if the ongoing tensions between the United States and Iran escalate into a wider conflict. Indian Naval Ship (INS) Trikand is currently deployed in the Gulf of Oman as part of the ongoing "Operation Sankalp". The operation was launched in 2019 to safeguard Indian vessels crossing through the Strait of Hormuz. Iraq: Pro-Iran Factions Ramp Up Threats Against US After Tehran's Ballistic Missiles Attack on American Troops.
According to a report published in The Times of India, apart from INS Trikhand, the Navy is also keeping a couple of warships on full operational readiness, in case a need arises to evacuate Indian from the Middle East. Besides the Indian Navy, the Indian Air Force (IAF), can also deploy the C-17 Globemaster-III, the heavy-lift aircraft, for the evacuations. Iran Informed Us of Missile Attack at US Military Bases, Says Iraq's Prime Minister's Office.
The Ministry of External Affairs (MEA) on Wednesday issued a warning for Indian nationals who are planning to visit Iraq. The Foreign Ministry has appealed all citizens to call off their non-essential visits to the nation in view of the escalating tensions between the United States and Iran. Meanwhile, Iran's Ambassador to India Ali Chegeni expressed the hope there would be no further escalation in hostilities between his country and the US. He also asked India to take peace initiative to de-escalate tensions between his country and the US.
The Tensions between the US and Iran escalated after Iranian military commander General Qaseem Soleimani was killed in US Drone attack on Friday. Days after Gen Soleimani's death, Iran killed 80 US soldiers by its military base in Iraq. After the attack, Iran Supreme Leader Ayatollah Ali Khamenei issued a statement, saying that the US has been delivered with a "slap in the face". According to reports, Iran launched 22 missiles at Iraqi bases housing US and other coalition troops early Wednesday in response to the killing of the senior Revolution Guards commander.
Reacting to Iran's attack on the US military base in Iraq, President Donald Trump in a tweet saying "All is Well". He is likely to issue an official statement on Wednesday. On Saturday also Iran attacked the US military base in Iraq but no casualties were reported in that attack.