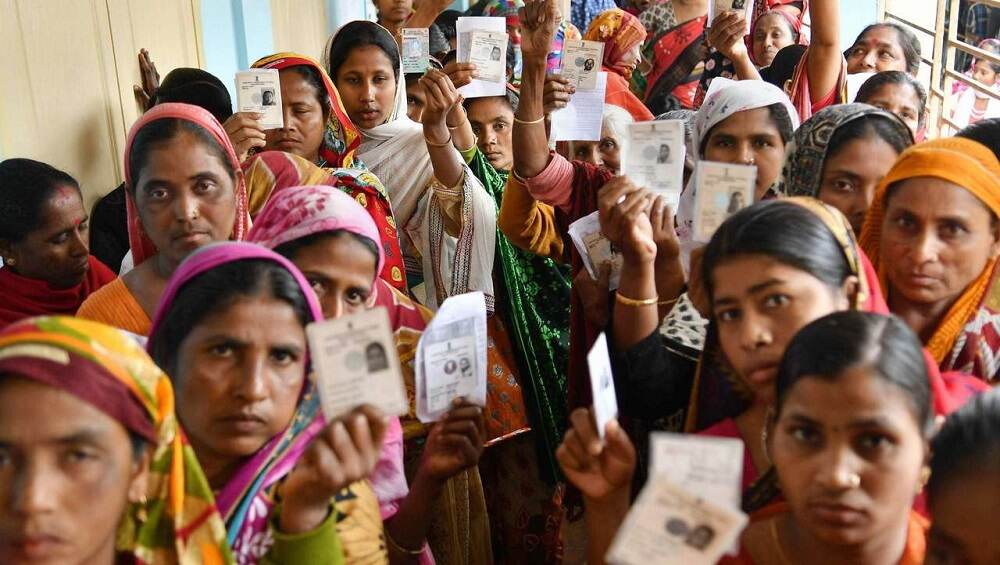 Ranchi, November 30: Voting for the first phase of Jharkhand assembly elections 2019 was held on Thursday amid heightened state of security. A total of 13 constituencies, spread across a total of six districts. A final voter turnout of 65 percent was recorded, which is marginally above the 61.92 percent voting recorded in these 13 constituencies in 2014. Know Phase-Wise And Constituency-Wise Schedule For Jharkhand Vidhan Sabha Polls.
The naxal insurgents, who had issued a poll boycott call, attempted to vitiate the voting process by carrying out a low-intensity explosion targeting a bridge in Bishnupur village of Gumla district. Officials later confirmed that neither any injuries were reported in the blast nor did it affect the polling process.
In Palamu, an altercation was witnessed between Congress candidate KN Tripathi and supporters of his BJP rival Alok Chaurasia. As per the footage which has emerged from the spot, Tripathi could be seen brandishing a gun after heated verbal exchanges between the two sides.
Watch Video of Congress Candidate Brandishing Gun
#WATCH Jharkhand: Congress candidate KN Tripathi brandishes a gun during clash between supporters of BJP candidate Alok Chaurasia & Tripathi's supporters. Tripathi was allegedly stopped by BJP candidate's supporters from going to polling booths, in Kosiyara village of Palamu. pic.twitter.com/Ziu8eCq42z

— ANI (@ANI) November 30, 2019
Final Voter Turnout
#JharkhandAssemblyPolls: Total voter turnout for the first phase of elections is 62.87% https://t.co/o74mnAHBxY

— ANI (@ANI) November 30, 2019
In the opening round of the Jharkhand polls, a total of 37,83,055 people were registered to cast their votes. A total of 189 candidates were in fray for the assembly elections in the 13 constituencies.
The five-phased electoral battle in Jharkhand will conclude on December 20. A total of 81 vidhan sabha seats are being contested in the state. Results of the assembly elections will be declared by the Election Commission on December 23.