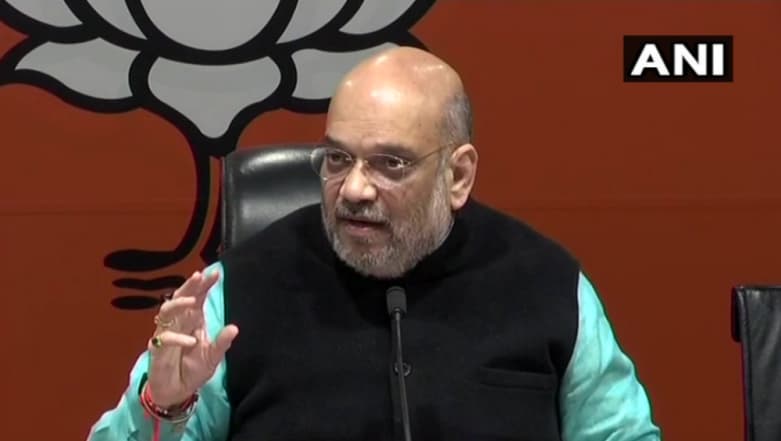 New Delhi, May 15: As the final phase of 2019 Lok Sabha elections is just three days away, Bharatiya Janata Party (BJP) chief Amit Shah on Wednesday showed his confidence that the party will be getting absolute majority in the lower house of parliament when the votes will be counted on May 23. Evaluating the general elections results, the BJP chief said after the phase 7 polls, the BJP will cross the 300 seat mark. Lok Sabha Election Result 2019 Predictions by Satta Bazar: Matka Players Reduce BJP's Number to 220, Congress Tottering at 100.
"I am fully confident that the BJP after the fifth and sixth phase of the elections has crossed the majority figure. It is going to cross 300 after the seventh phase," Shah said. Shah made this statement in New Delhi during a press conference called to give details about Kolkata violence during his rally on Tuesday.
Many BJP leaders are expecting that the party will win more than 300 seats in the general elections, while Prime Minister Narendra Modi himself saying the same. "The BJP alone is getting 300 seats while NDA is getting 350 plus seats after the sixth phase of elections," Union Minister Prakash Javadekar said earlier.
Meanwhile, the BJP allies do not completely agree with the party's claim. Sanjay Raut, a Shiv Sena leader, said that the NDA will form a government but it will be difficult for the BJP to win 280-plus votes alone. Another ally Shiromani Akali Dal (SAD) expressed a similar view. Naresh Gujral, a SAD leader, said BJP is likely to fall short of an absolute majority and a coalition government will be formed by the NDA.