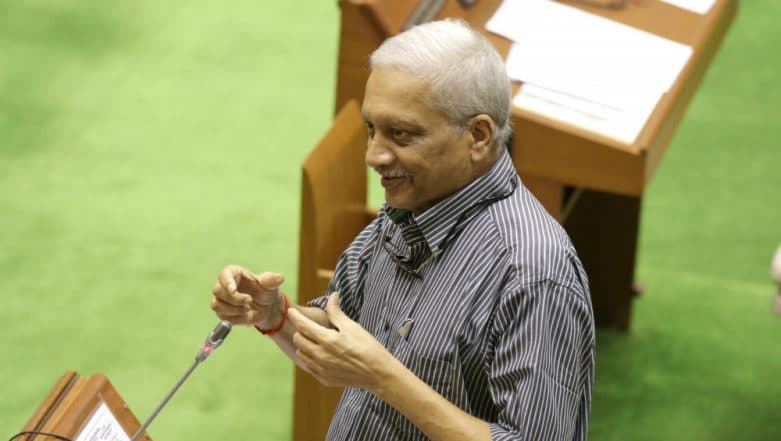 Panaji, October 27: The Goa government on Saturday finally admitted chief minister Manohar Parrikar is suffering from pancreatic cancer. The Goa BJP and the state government had been refusing to disclose Parrikar's ailment since months. However, the state health minister Vishwajit Rane spilled the beans amid relentless demands from the opposition parties to know whether the chief minister was fit enough to govern.
"He is the CM of Goa and the fact is that he is not well. He has got pancreatic cancer. There is no hiding of this fact," Rane told reporters. The statement was made a day after the Congress gave the Bharatiya Janata Party-led coalition government four days to prove that Mr Parrikar was of "sound health and mind" and in a position to govern the state. Rane urged media to let Parrikar spend some time with his family members. BJP Pressurising Parrikar to Resume Office: Former Goa RSS Chief.
"Let him be peaceful with his family. That much right he has, after serving the people of Goa, that if he wants to spend some quality time with his family, nobody has the business to ask...," the health minister said. Parrikar, who is currently being treated for advanced pancreatic cancer, has been in an out of hospitals in Goa, Mumbai, New York and Delhi.
Rane also hit out at the Congress for playing politics over the ailing chief minister's health, saying if the Congress wanted to go to court to learn of Parrikar's health condition, it was free to do so. Parrikar's absence has created a leadership vacuum in Goa, even as the opposition has demanded that he step aside to focus on treatment.
Parrikar has not had a single public appearance since his return from Delhi's All India Institute of Medical Sciences on October 14 and is currently bedridden at his private residence, which party sources said has been converted into a sophisticated medical facility, with doctors and para-medical staff on 24-hour duty.