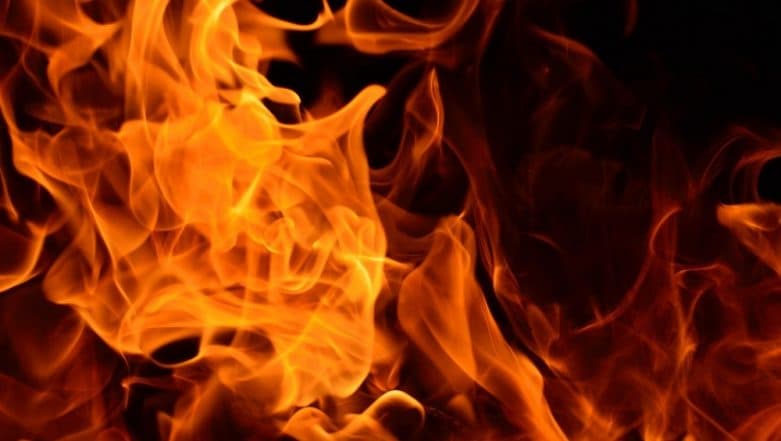 Gurugram, November 7: An annoyed milkman set his Royal Enfield bike ablaze after a traffic police stopped him and asked him to show his bike documents. The incident occurred at Gurugram's Old Railway road on Tuesday. The episode had created a panic but no injuries were reported as the fire was quickly doused. The bizarre act was caught on camera and became instantly viral on social media. Diwali Shocker! Delhi Man Sets 18 Vehicles on Fire After Being Drunk; Watch Video.
In the footage, the milkman in its early thirties was seen wearing a camouflage T-shirt and with a black scarf wrapped in his neck and face, can be seen getting angry on a traffic cop standing near him with an e-challan machine, reported Times of India. The anonymous man had two milk containers strapped to his bullet bike and he was reportedly stopped because his bike was not having compulsory high-security numberplate. On his rear number plate, instead of registration number, 'Om Namah Shivaya' was written, which was not allowed by the rules.
When traffic police briefed him about the violations and asked him about the documents, the man got infuriated and reportedly pulled out fuel pipe which connects fuel tank with the engine and set his bike ablaze, reported TOI. The unidentified man took advantage of the panic and fled from the spot. A fire tender rushed to the spot to control the fire.
Earlier in a similar incident, a drunk man had set 18 vehicles on fire, including 14 two-wheelers and four cars. This incident was reported in Madangir area of South Delhi on Tuesday. The video of the incident has also emerged in Social media in which, the unidentified person can be seen setting fire to the vehicles with the help of matchbox.