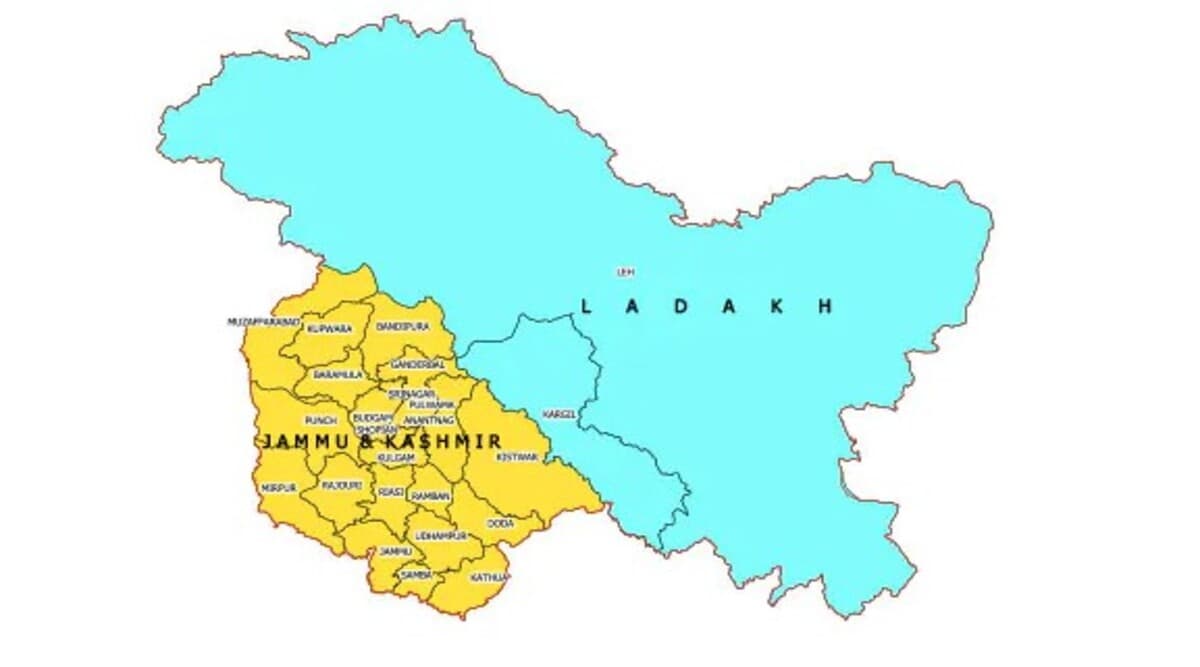 Srinagar, November 2: After the union territories of Jammu and Kashmir and Ladakh has formally come into existence, the Ministry of Home Affairs on Saturday released a new political map of India, with 28 states and nine Union Territories. The new map shows the administrative boundaries of the Jammu and Kashmir and Ladakh. This development comes two days after the state was bifurcated into two UTs, in line with August 5 announcement of axing down special status under Article 370 of the Indian Constitution. Girish Chandra Murmu Takes Oath as First Lieutenant Governor of Jammu And Kashmir, RK Mathur Becomes L-G of Ladakh.
On Thursday, Girish Chandra Murmu was sworn in as the first lieutenant governor of the union territory of Jammu and Kashmir and RK Mathur of Ladakh. With the inclusion of J&K and Ladakh on 144th birth anniversary of Sardar Vallabhbhai Patel, there is a total of nine union territories.
New Political Map of Jammu and Kashmir and Ladakh:
The new maps of the Union Territory of Jammu and Kashmir & Union Territory of Ladakh. The two Union Territories formally came into existence on 31st October, 2019. pic.twitter.com/mFe4mWbrQB

— ANI (@ANI) November 2, 2019
New Map showing the Union Territories of #Jammu & #Kashmir and #Ladakh , as these exist after 31st October, 2019. pic.twitter.com/7lK5OTpyiu

— Dr Jitendra Singh (@DrJitendraSingh) November 2, 2019
Nine Union Territories of India:
Andaman and Nicobar

Chandigarh

Daman and Diu

Dadar and Nagar Haveli

Delhi

Jammu and Kashmir

Ladakh

Lakshadweep

Puducherry
The Centre on August 4 axed the provisions of Article 370 that gave special status to Jammu and Kashmir. The Narendra Modi government also bifurcated it into two union territories.
Hundreds of local politicians including former Chief Ministers Mehbooba Mufti, Farooq and Omar Abdullah have been under detention since the government announced sweeping of special status. The restrictions, including a clampdown on communication, were necessary to keep the situation under control, the government had said.