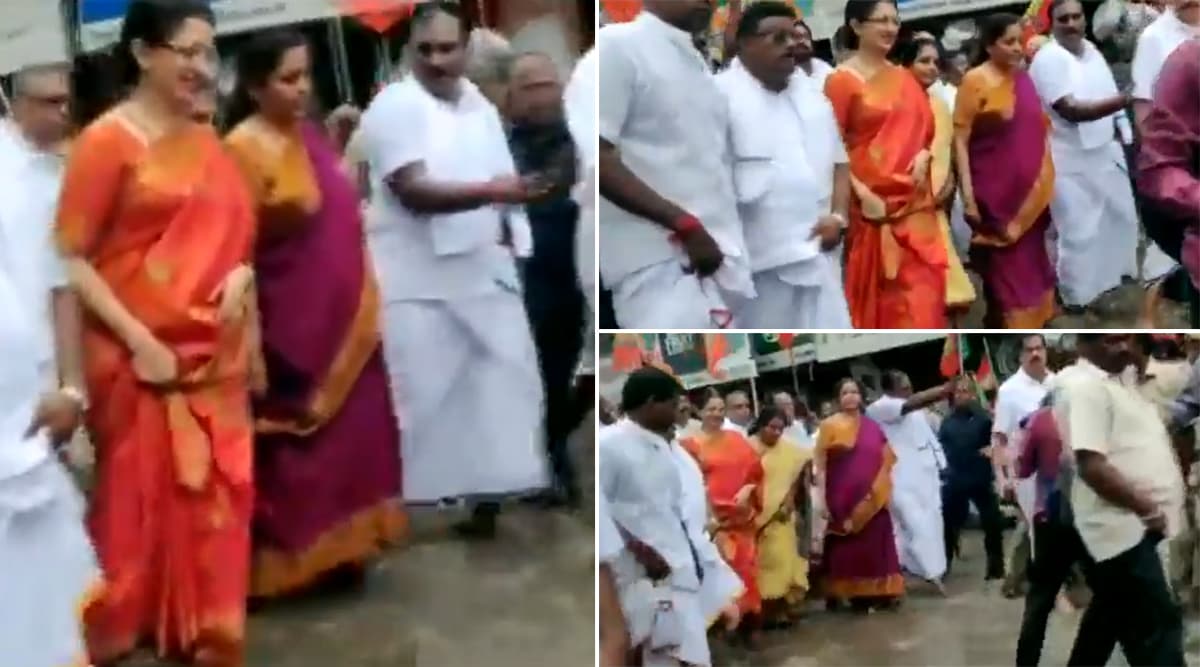 Chennai, October 31: Union Finance Minister and Bharatiya Janata Party (BJP) leader, Nirmala Sitharaman waded through a waterlogged street in Chennai during a walkathon to commemorate birth anniversaries of Mahatma Gandhi and Sardar Vallabhbhai Patel. In a video, Nirmala Sitharaman is seen walking through a waterlogged street along with several BJP workers and leaders in Shenoy Nagar locality. Parts of Tamil Nadu have been witnessing heavy rainfall since past few days. This has resulted in waterlogging in low-lying areas. As many as 15 districts of Tamil Nadu are likely to receive heavy rainfall today. Parts of Tamil Nadu will continue to receive heavy rainfall till November 1. Tamil Nadu Rains: Roof of House in Rameswaram Collapses Due to Heavy Rainfall After Northeast Monsoon Hits State.
Watch Nirmala Sitharaman Walks Thorugh Waterlogged Street:
#WATCH Tamil Nadu: Union Finance Minister Nirmala Sitharaman walks through a waterlogged street in Shenoy Nagar in Chennai during walkathon, on birth anniversary of #SardarVallabhbhaiPatel & 150th birth anniversary year celebrations of Mahatma Gandhi. pic.twitter.com/RktRjAZ6So

— ANI (@ANI) October 31, 2019
For Live news and updates on India, Politics, World, Lifestyle, Sports, Entertainment, tech and more, follow this link or log on to LatestLY.