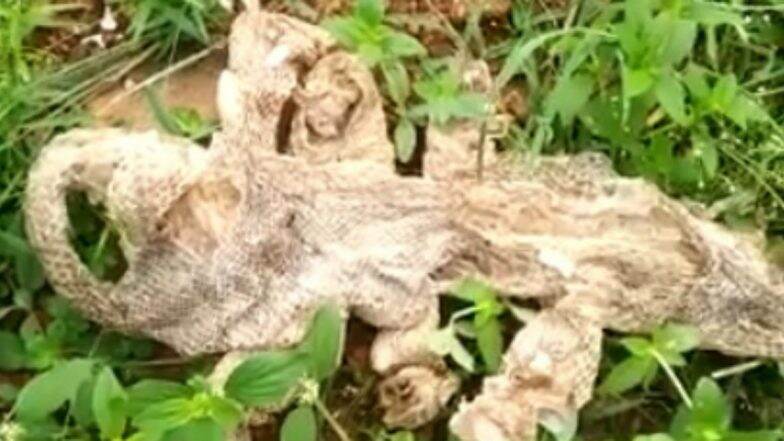 Bengaluru, October 10: The discovery of a skin which villagers believe is of a seven-headed snake has created a brouhaha in Karnataka's Marigowdana Doddi. The snake's skin was found near a temple on Wednesday. The news of "seven-headed" snake spread like a wildfire and hundreds of people from other villages thronged the area to have a glimpse of the "mythological" serpent. Rare Two-Headed Russell's Viper Snake Found in Kalyan.
A local, Prashanth MN, said that similar skin was found nearly six months ago. Villagers constructed a temple where the skin was found believing that the place has some special powers. "Now, the snake skin has appeared near the temple itself. A temple staffer, who was cleaning the premises in the morning, spotted the skin in the field of a villager named Balappa," Prashanth was quoted by TOI as saying.
'Seven-Headed' Snake's Skin Found in Karnataka:
Multi-headed snake's skin draws crowds in Kanakapura #Karnataka pic.twitter.com/suXh4eGHhl

— TOI Bengaluru (@TOIBengaluru) October 10, 2019
Snake experts, however, ruled out the possibility of multi-headed snake's existence. "There are two-headed snakes, but they too are very rare. Just like conjoined twins among humans, some snakes will have two heads," expert Ramu P told the newspaper.