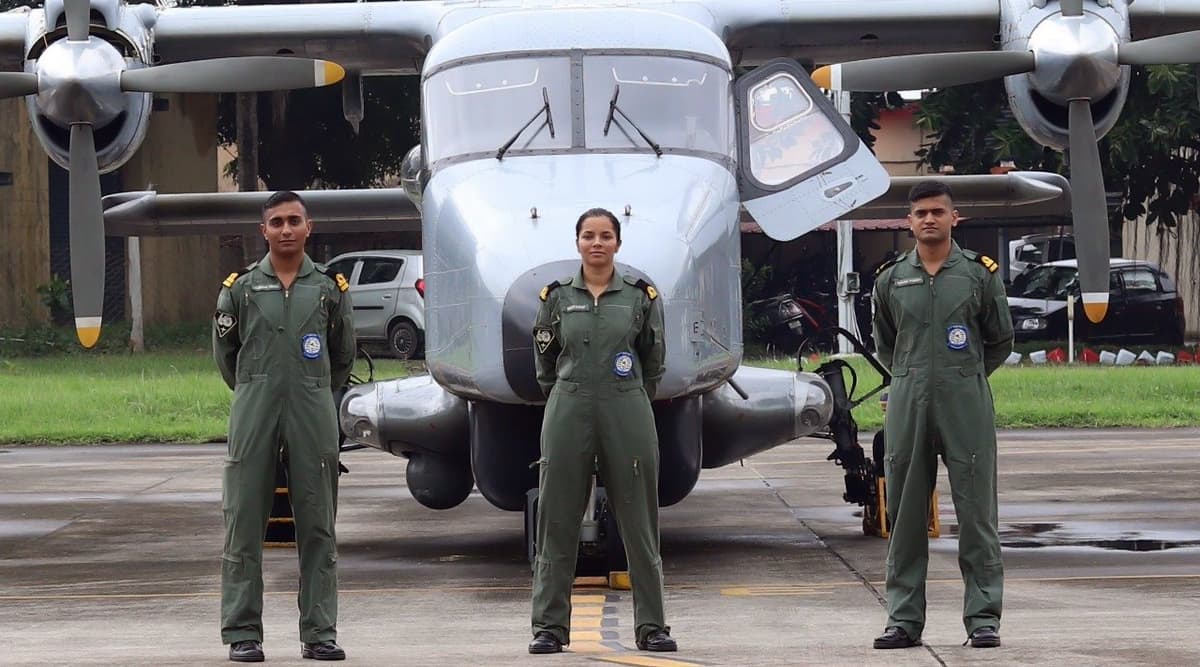 Kochi, December 2: Sub Lieutenant Shivangi on Monday became the first woman pilot of the Indian Navy as she joined operational duties in Kochi naval base. Sub Lt Shivangi will be flying the Dornier surveillance aircraft of the Indian Navy. She was inducted into Indian Navy as SSC (Pilot) as part of 27 NOC course in Indian Naval Academy, Ezhimala and got formally commissioned by Vice Admiral AK Chawla, in June last year. Shaliza Dhami Becomes First Woman Flight Commander of IAF's Chetak Helicopter Unit.
Speaking to media, the lady officer said, "I have been craving for this since a very long time & finally it is here, so it's a great feeling. I am looking forward to complete my 3rd stage of training." Sub Lt Shivangi hails from Muzzafarpur, Bihar and completed her schooling from DAV Public school. She underwent training at the Southern Naval Command.
Shivangi's flying training was conducted in three phases. She underwent basic flying training of six months with Indian Air Force (IAF) followed by Dornier flying for getting 'wings' as a qualified pilot, reported Deccan Herald. After rigourous training of six months in the Naval Academy, her flying training was started on Pilatus (PC7) aircraft at Air Force Academy (AFA), Dundigal. She completed 07 Dornier Conversion Course from Dornier Training Squadron INAS 550 in Kochi.
Video of Shivangi Getting 'Wings':
Historic day for @indiannavy as first female naval pilot Sub Lt Shivangi gets her 'wings' in Southern Naval Command #Kochi today pic.twitter.com/9xuZXoAgfk

— Neeraj Rajput (@neeraj_rajput) December 2, 2019
Video of Sub Lt Shivangi Joining Operational Services:
Sub Lt #Shivangi walks past surveillance aircraft Dornier wich she will fly now after getting wings at INS Garuda in #kochi @indiannavy pic.twitter.com/5jr6CiqXxB

— Neeraj Rajput (@neeraj_rajput) December 2, 2019
Before Shivangi joined the flying services of the Indian Navy, the aviation branch of the force has women officers operating as air traffic control officers and as ''observers'' in the aircraft who are responsible for communication and weapons. Bhawana Kanth Becomes India's Second Woman Pilot To Fly Fighter Aircraft Solo, Creates History.
Dornier (DO-228) aircraft are manufactured by Hindustan Aeronautics Limited (HAL). HAL DO-228 aircraft is India's lightweight maritime surveillance aircraft. On Friday, The Navy commissioned Air Squadron 314, which is also known as the sixth squadron of Dornier aircraft at a ceremony held at Naval Air Enclave in Gujarat's Porbandar. Dornier is state-of-the-art multi-role Short Range Maritime Reconnaissance aircraft.