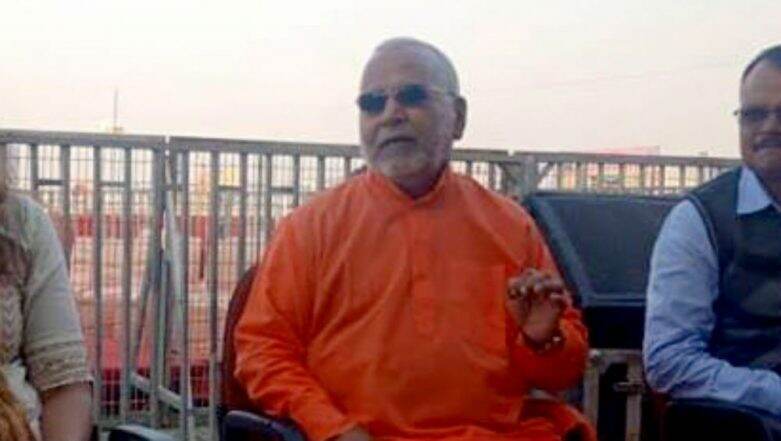 Lucknow, September 11: Bharatiya Janata Party (BJP) leader Swami Chinmayanand, who has been accused of sexual harassment by a law student, got into fresh trouble after a video of the leader allegedly getting a naked massage went viral on social media. On Monday, a postgraduate student levelled sexual abuse allegations against the BJP leader and said that he raped her for one year and also physically exploited her during the same time. According to a report by India Today, a video shows the BJP leader getting a massage from the law student as he continues to undress. BJP Leader Swami Chinmayanand Remains Untraceable. 
The report further adds that the video was shot by the girl through a spycam that was fitted in her spectacles. Moreover, the family of the law student had submitted the video to the SIT investigating the case. The SIT is yet to ascertain the authenticity of the video. Amid the ongoing investigation into the matter,  Chinmayanand's lawyer Om Singh has denied the existence of any such video. Shahjahanpur Law Student, Who Went Missing After Accusing BJP Leader Swami Chinmayanand of Harassing Women, Found in Rajasthan: UP Police.
On Wednesday, Chinmayanand termed the sexual harassment case lodged against him as a "conspiracy" and said that he had full faith in the SIT. "The matter is being heard by the court. Thus, it is not right to comment on it right now. But I have full faith in the SIT formed to investigate the case," the BJP leader said. He claimed that there were some people who were conspiring against him at a time when Shahjahanpur was on the verge of getting its own university.
Earlier this month, the Supreme Court had directed the Uttar Pradesh government to constitute an SIT to probe the allegations levelled against Chinmayanand by the law student who was found in Rajasthan, six days after she went missing. A division bench of Justices R Banumathi and AS Bopanna had said the SIT will be led by an IG-rank officer and assisted by a superintendent of police.  Also, the bench directed the Uttar Pradesh chief secretary to provide police protection to the woman and her family.
The court had also asked the state government to transfer the law student to a different college so that she could continue her education. On August 30, the woman was produced before the Supreme Court after she was found in Rajasthan. The woman had gone missing on August 24 after a video of her alleging that a person from 'Sant Samaj' had threatened to kill her and her parents went viral on social media.