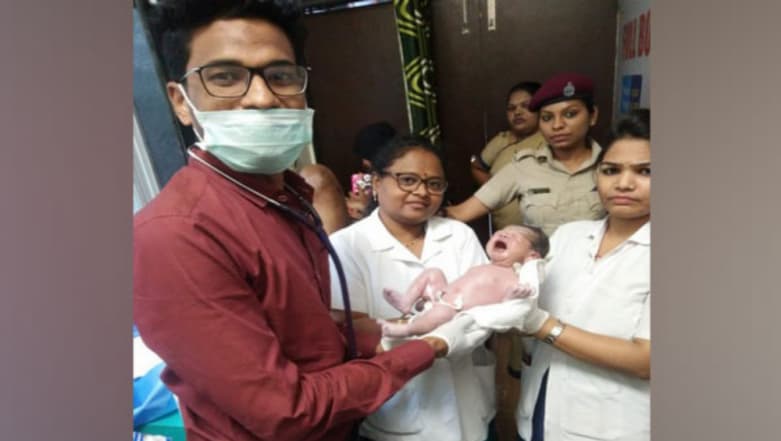 Thane, April 7: In an unusual incident, a woman delivered a baby at Thane railway station on Saturday evening after she developed labour pain during her commute. Reports inform that the woman delivered a baby boy while she was on her way to Kurla. According to a report by ANI, Ishrat Shaikh was travelling from Ambivali to Kurla by train when she suddenly developed labour pain, following which the women officials of the Railway Protection Force (RPF) brought her to the 'One Rupee' clinic. Mumbai: Woman Gives Birth to Baby On Platform of Dadar Railway Station.
Shaikh delivered the baby at around 6:30 pm at Thane Railway station on the Central Line. Rahul Ghule, CEO of One Rupee clinic was quoted saying by ANI that both mother and the child are in good health. Both were shifted to the Thane Civil Hospital for better treatment. "We thank the Railway authority for giving us an opportunity to run EMR via One Rupee clinics at many railway stations for passengers' golden hour treatment," Ghule added. The CEO was was quoted in reports saying that this was the third successful delivery conducted by the Thane one-rupee clinic.
On March 4, a similar incident was reported in Kolkata where a woman gave birth to her baby in a train while she was travelling from the Agartala-Habibgaunj Express. The patients on the train helped her in delivering the baby. In another similar incident in December 2018, a woman gave birth to a baby on the platform of Mumbai's Dadar railway station in Mumbai while she was waiting for a train to Pune. As she waited, she developed labour pain and was then helped by police personnel and travellers in delivering the baby.